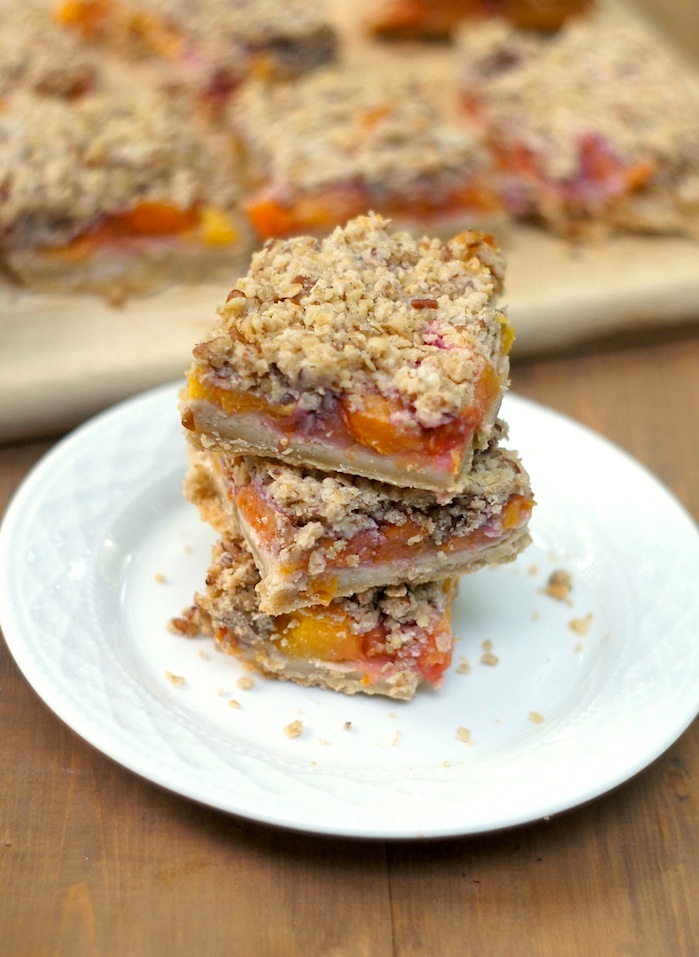 I love all types of fresh fruit. But, if I had to pick my favorite? Peaches, no question. And not just any peaches – local peaches in the height of peach season, preferably that I picked myself, are the absolute best. We haven't been peach-picking yet this year, due to the cuddly new family member who's keeping us busy, but I'm still able to get my hands on fresh, local peaches, thanks to the abundance of farmer's markets in Nashville.
During our latest visit to the farmer's market, I got a dozen awesome local peaches. While I ate a bunch of 'em straight up, I wanted to use the remaining ones in a new-to-me dessert. And thus, these peach bars came into being. So, how were they? So darn good. The bars have three layers – the rich, decadent shortbread crust layer, a sweet/tart juicy fresh peach layer, then the delicious, buttery pecan + oat crumble topping. Put those three layers together + what do you have? One of the tastiest peach desserts I've ever eaten, that's what! So, if you're looking for a fabulous summer recipe to showcase in-season peaches, give these bars a try!
And if you're looking for more scrumptious peach-centric recipes, check out my fresh peach lemonade + my peach + raspberry galette – both are AMAZING!
Peach + Pecan Oat Crumble Bars

makes one 9×13″ pan, about 12-16 bars, adapted from thekitchn

ingredients

For The Base Dough:
1 cup unsalted butter, softened at room temperature for 1 hour
1/2 cup dark brown sugar, packed
2 teaspoons vanilla extract
2 1/4 cups flour
1 teaspoon salt
1/2 teaspoon ginger
1/8 teaspoon cinnamon

For The Peach Filling:
2 pounds peaches, unpeeled (about 8 peaches), chopped into 1/2″ pieces
1 tablespoon sugar
1 tablespoon cornstarch
1/4 teaspoon salt

For The Pecan Oat Topping:
1/2 cup unsalted butter, softened at room temperature for 1 hour, divided
1 cup old-fashioned oats
1/2 cup flour
1 cup pecans, finely chopped
1/4 teaspoon cinnamon
1/4 teaspoon salt

directions

Heat the oven to 350°F + lightly grease a 9×13-inch baking dish.

In the bowl of a stand mixer (or in a large bowl, using a hand mixer) cream the butter with the brown sugar + vanilla until light + fluffy. Turn off the mixer + add in the flour, salt, ginger, + cinnamon. Mix dry ingredients in just until the dough is soft + pulled together. Press the dough firmly into the bottom of the prepared baking pan + refrigerate while preparing the filling + topping.

Roughly chop the peaches into 1/2-inch pieces + toss with the sugar, cornstarch, + salt. Set aside.

Wipe out the mixer bowl + mix 1/4 cup softened butter with the oats, flour, pecans, cinnamon, + salt until soft + crumbly. Melt the remaining 1/4 cup butter + set aside to cool.

Spread the chopped peaches over the chilled dough base. Evenly crumble the topping over the peaches, + drizzle with the melted butter.

Bake for 45 minutes or until the topping is lightly browned.

Cool (or chill) for at least an hour before slicing + serving. I recommend keeping these in an airtight container in the fridge – they're easier to cut when chilled + will last longer (about a week). I let the sliced bar(s) come up to room temperature for about 30 minutes before serving, but they're tasty cold, too!

print this recipe