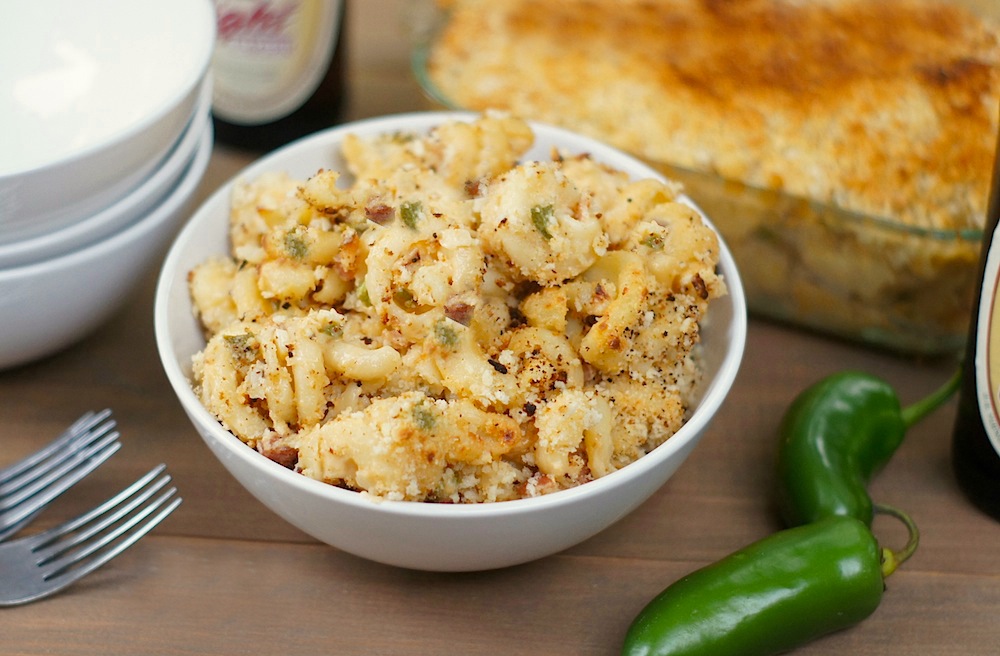 Today, i'm participating in a fun blogger event — the Secret Recipe Club. How does it work? Every blogger is secretly assigned another blog + chooses a recipe from that blog to make. On reveal day (today!), all of our posts go up at the same time, + everyone gets to see who was assigned to their blog, which recipe they chose, + how it turned out. Fun, huh?
I was assigned Life On Food, a fabulous blog full of truly mouth-watering recipes. After looking through page after page of scrumptious-looking food, I decided to make this jalapeno bacon mac + cheese. Fearless Baby + I headed to the grocery store, picked up all the ingredients, + during her next naptime, I got cookin'. And the results? Seriously AMAZING. It is super rich + creamy, thanks to 3 different cheeses – cheddar, pepper jack + cream cheese – with just the right amount of spicy heat from the peppers, + a perfect salty bite from the bacon. I served it as a side dish alongside grilled hamburgers + asparagus, but it's hearty enough that it could easily be a main dish unto itself. And, it makes enough for delicious, easy-to-reheat leftovers, which is always an extra bonus for me!

Thank you to Emily for introducing me to this fabulous macaroni + cheese, + to the Secret Recipe Club for connecting me, yet again, with fantastic bloggers + amazing recipes!
Jalapeno Bacon Macaroni + Cheese

serves 8-10, adapted from Life on Food and Rachael Ray

ingredients

kosher salt
1 pound short pasta, such as elbow macaroni, rotini, or bowties – i used trottole
4 pieces of bacon, diced
1 onion, chopped
4 cloves garlic, finely chopped
6 tablespoons) butter
4 jalapeno peppers; seeds + ribs removed, finely chopped
3 tablespoons all-purpose flour
2 1/2 cups milk
freshly ground pepper + kosher salt, to taste
1 cup shredded sharp cheddar cheese
1 cup shredded pepper jack cheese
4 ounces cream cheese
1 cup panko bread crumbs
3 tablespoons butter

directions

Bring a large pot of water to a boil. Salt the water + cook the pasta until al dente, according to the package instructions; drain + set aside.

Meanwhile, heat a medium saucepan over medium heat. Add the diced bacon + cook, stirring occasionally, until it's browned + crisp, about 10 minutes. Transfer the bacon bits to a paper towel-lined plate to drain, leaving 2 tablespoons bacon fat in the saucepan.

Add 3 tablespoons butter, the chopped jalapenos, onion, + garlic to the saucepan + cook until the jalapenos + onions are well-softened, about 7-10 minutes minutes. Add the flour + cook, stirring, for 1 minute. Add the milk, + bring to a boil, stirring constantly, then reduce to a simmer + cook for 3 minutes more, stirring occasionally.

Remove from heat + add the cheddar, pepper jack + cream cheese + stir until melted + combined. Add salt + pepper to taste.

Stir together the cooked pasta with the cheese sauce + bacon bits, stir to combine well, + transfer to a casserole dish.

Melt the remaining 3 tablespoons butter + toss with the panko breadcrumbs to coat. Sprinkle over the casserole. Pop in the oven + broil for 2-3 minutes, until the breadcrumbs are golden brown + crispy.

print this recipe