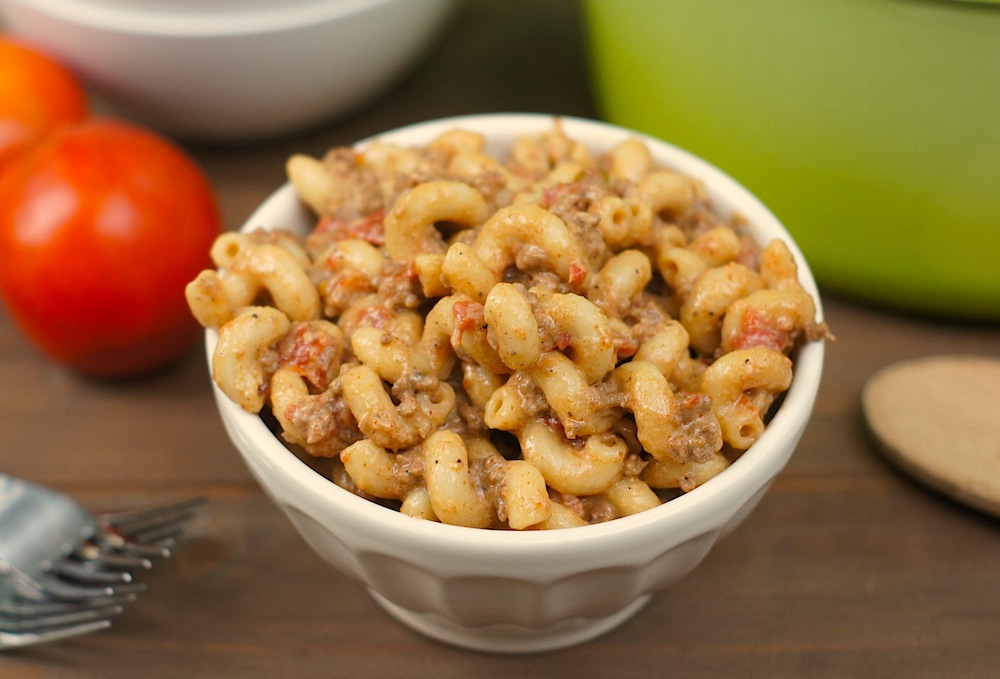 Today, I'm participating in a fun blogger event — the Secret Recipe Club. How does it work? Every blogger is secretly assigned another blog + chooses a recipe from that blog to make. On reveal day (today!), all of our posts go up at the same time, + everyone gets to see who was assigned to their blog, which recipe they chose, + how it turned out. Fun, huh?
I was assigned the blog A Kitchen Hoor, full of tons of great recipes, many of which are lighter (which I love!). As y'all know, I'm a huge sucker for any sort of comfort food pasta meal, so when I saw her recipe for a healthier Chili-Cheese Mac, I knew I had to try it. And y'all, it turned out SO good! It's a perfect combination of flavorful chili beef + a lower-fat cheddar sauce, all tossed with diced tomatoes, green chiles, + pasta. As a pasta lover, I thought it was fantastic, and my chili-loving husband also gave it two enthusiastic thumbs up. And with only 350 calories per good-sized dinner portion (+ a great 25 grams of protein), it's waistline-friendly while still tasting amazing.
Thank you to Christine for introducing me to this wonderful Chili-Cheese Mac + to the Secret Recipe Club for connecting me, yet again, with fantastic bloggers + amazing recipes! For all my previous Secret Recipe Club recipes, click here – there are TONS of awesome ones!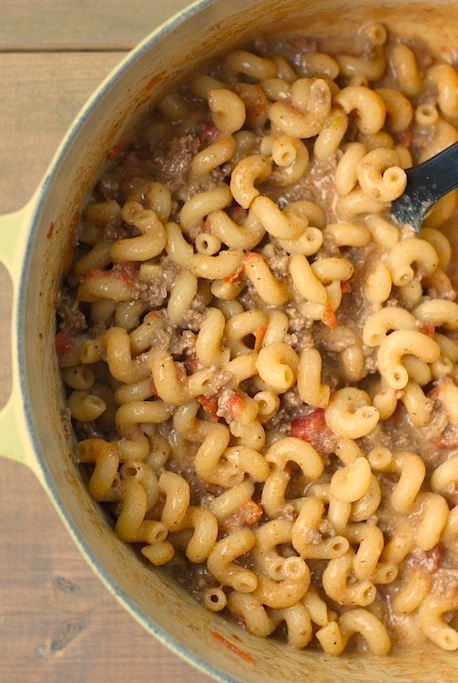 Healthier Chili-Cheese Macaroni

serves 6, adapted from Cooking Light and A Kitchen Hoor

Ingredients

1/2 teaspoon canola oil
1 pound ground beef (I like to use 80% lean)
1 teaspoon garlic powder
1 teaspoon onion powder
1 teaspoon ground coriander
1 teaspoon ground cumin
2 teaspoons chili powder
2 cups fat-free, lower-sodium beef broth
1 cup water
1 (10-ounce) can diced tomatoes and green chiles, undrained (mild or spicy, depending on your preference)
8 ounces uncooked elbow macaroni (or other short pasta)
1/2 cup fat-free milk
4 ounces 1/3-less-fat cream cheese
4 1/2 ounces finely shredded reduced-fat sharp cheddar cheese

Directions

Heat a Dutch oven over medium-high heat. Add oil. Add beef + next 5 ingredients (onion powder, garlic powder, coriander, cumin, chili powder); cook until beef is no longer pink, about 8-10 minutes. Drain off any fat. Add broth, water, + tomatoes; bring to a boil. Stir in macaroni, reduce to a simmer, cover + cook 10-12 minutes, stirring occasionally, or until macaroni al dente.

Heat milk + cream cheese in a separate small saucepan over medium heat. Cook 4 minutes or until cream cheese melts, stirring frequently. Remove from heat. Stir in cheddar until completely melted. Add cheese sauce to macaroni mixture; toss well to coat. Let sit for 5-10 minutes, until sauce has thickened slightly. (Don't fear if it looks liquidy at first – it thickens up beautifully!)

Serve hot with extra cheese, if desired.

print this recipe