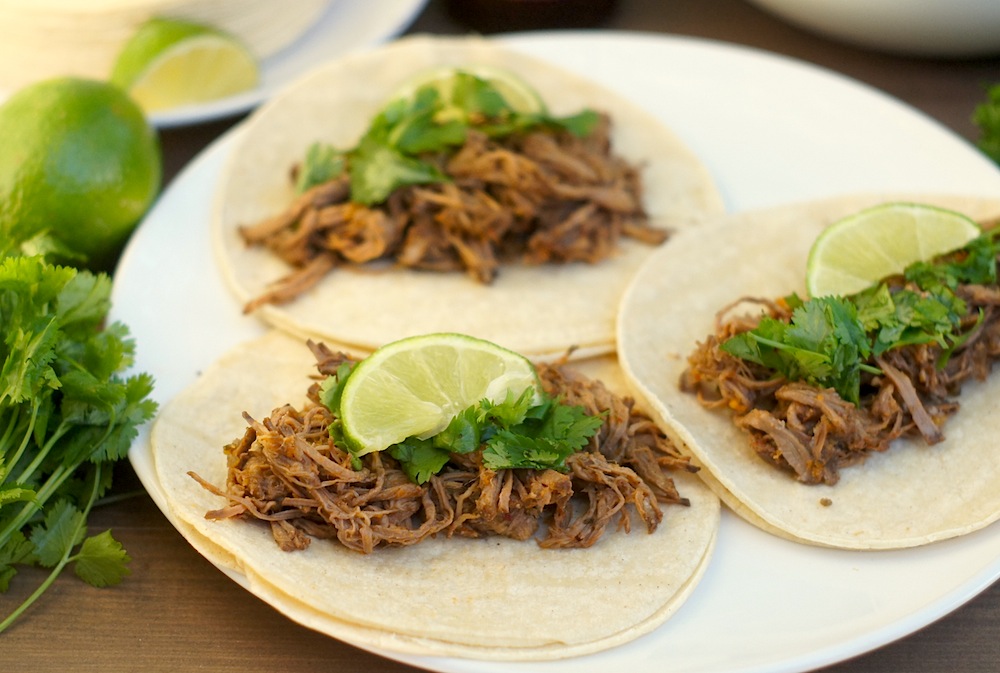 While I use my slow-cooker all year 'round, I get more excited about breaking it out in the fall + winter. The cooler weather makes me crave all the wonderfully hearty soups, stews, + braised meats that my beloved crock-pot is so good at making. So, when I wanted to try a new meal a couple weeks ago, I decided to make this Slow-Cooker Barbacoa Beef that I'd bookmarked ages ago.
Y'all. This was SOOO good, so amazingly easy to make, + so versatile. You wind up with seriously fall-apart tender beef that is packed with tons of awesome, spicy flavor. It does make a lot of food, so invite some friends over to share (it is perfect for football-watchin'!), or get ready for some fab leftovers. The first night, we served it (as pictured) with small corn tortillas + made tacos. The second day, we used large flour tortillas, added rice + beans, + made scrumptious burritos. And for days after that, I piled the beef into a bowl with leftover beans, rice, cheese, + salsa for burrito bowls. And we still had enough left over that I froze a good portion to use for meals in the future.
So, if you're looking for a fabulous slow-cooker meal that results in some seriously amazing food to feed a crowd (or give you lots of leftovers), you *must* give this recipe a try!
Slow-Cooker Barbacoa Beef

serves 8-10 (enough for about 30 small tacos), adapted from the kitchn

Ingredients

4 chipotle peppers in adobo
1 bunch cilantro, chopped
1 red onion, peeled + cut into large chunks
1 head garlic, peeled + cloves smashed
5 bay leaves
2 teaspoons ground cloves
1 tablespoon kosher salt
Juice of 4 limes
1/2 cup cider vinegar
5-7 pounds beef brisket
4-6 cups beef or chicken stock (I used chicken)

Directions

Put the following ingredients into a food processor + pulse until well-combined: chipotle peppers, cilantro, red onion, garlic, clove, salt, lime juice, + cider vinegar. Pour that sauce into the slow-cooker, then place the brisket on top of the sauce. (Cut my brisket in 2-3 pieces, if needed, so it fits better in the slow cooker.) Add enough chicken or beef stock to cover the meat + place bay leaves on top. Use tongs to move the meat around gently to combine everything + put the lid on.

Cook on HIGH for 4 hours, then turn slow-cooker to WARM + let sit for 6 to 8 hours.

(Note from the kitchn: I like to make mine before bed and then let it sit on WARM overnight. This allows the meat to cook fully and then come to a point where it can be shredded easily and will essentially fall apart when pulled with a fork. If you don't have overnight to accomplish this, another hour of cooking on HIGH will get the job done. The meat will not be as tender, but will still be tasty.)

When the meat is fully cooked + fall-apart tender, remove from slow cooker + place on rimmed baking sheet. Use two forks to pull the meat apart. Discard the fat, if desired. Place shredded beef in large bowl + ladle about 1-2 cups cooking liquid over the top. You want the meat to be sufficiently juicy, but not swimming in the liquid.

Amy's note: the remaining cooking liquid is a deliciously-spicy + flavorful beef broth. I highly recommend that you save it + use it to make a tasty noodle soup later in the week! Or freeze it for future use – you could use it in any recipe that calls for beef broth, but be warned, it does have a spicy kick!

Serve the barbacoa beef with corn tortillas for making tacos or flour tortillas for making burritos. I recommend serving them chopped cilantro, onion, tomato, cheese, salsa + sour cream. YUM!

print this recipe