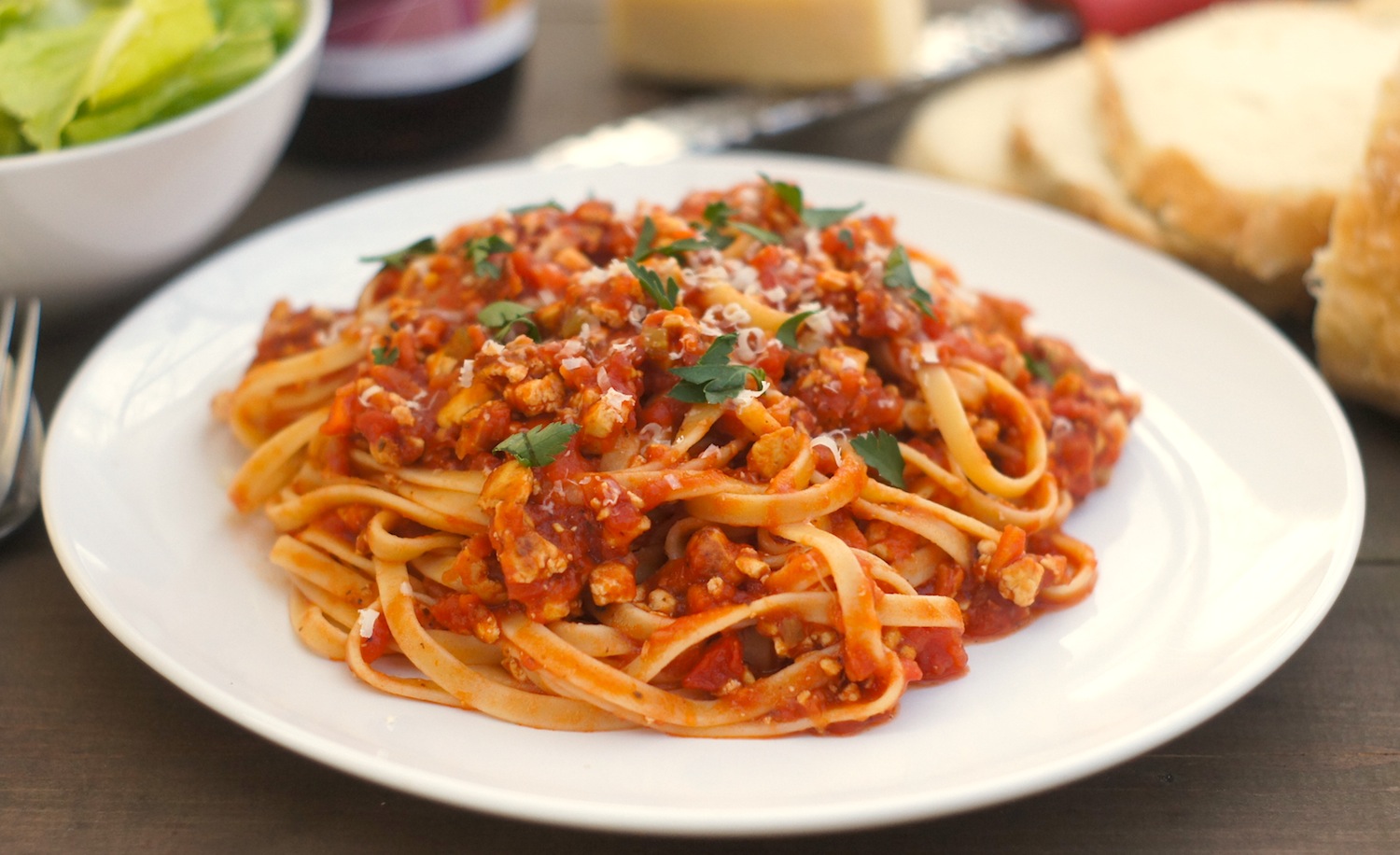 Happy 2014, y'all! I hope that your 2014 is off to a fantastic start, + that it's a fabulous, wonderful year for all of you. I know many people make food- and diet-related resolutions in the new year, so I'm starting off the year with a healthy, meat-free twist on the classic pasta bolognese. In this recipe, instead of beef, pork, or veal, I use crumbled tofu as the "meat." And while I used traditional pasta here, if you're eating low-carb, you can easily substitute spaghetti squash for the pasta.
The tofu gets sauteed until golden brown with caramelized onions, garlic, carrots, + celery, then slowly simmers with tomato paste, crushed tomatoes, broth, + herbs. The result is a wonderfully flavorful meat-free bolognese sauce that is so delicious, you truly won't miss the meat! The crumbled tofu has a perfect slightly-chewy texture, which makes it a satisfying substitute for meat. My meat-loving husband, who tolerates tofu but doesn't love it, was a huge fan of this meal, going back for seconds. And I was an even bigger fan – I had a huge portion the first night I made it, and loved it as leftovers – the flavors got even more delicious and complex after sitting overnight in the fridge.
So, if one of your New Year's goals is to eat healthier, or to eat less meat, you must give this delicious meal a try! And even if it that isn't one of your resolutions, you should still put this tofu "bolognese" on your to-try list — it'll be a crowd-pleaser for both meat-eaters AND vegetarians!
Pasta with Tofu "Bolognese"

serves 8, a Fearless Homemaker original recipe

Ingredients

2 tablespoons olive oil
1 onion, finely diced
2 carrots, peeled and diced
2 stalks of celery, diced
3 garlic cloves, finely minced
kosher salt + black pepper
2 (14 oz.) packages extra-firm tofu
2 teaspoons dried Italian seasoning
3 tablespoons tomato paste
2 (28 oz.) cans crushed tomatoes
2 bay leaves
1/4 teaspoon crushed red pepper
1/2 cup low-sodium vegetable broth
12 oz. pasta, such as linguine or fettuccine

Directions

First, prepare the tofu. Press the tofu blocks between paper towels to remove as much moisture as possible. Then, using your hands, crumble into smaller pieces. Don't worry about making them super small – you'll crumble them further during the cooking process. Set crumbled tofu aside.

In a large skillet, heat olive oil over medium heat, then add in the onion, carrots, and celery. Saute for 10-15 minutes, until onions are translucent and vegetables are softened. Add in the garlic and saute for 1-2 minutes, until garlic is fragrant. Add salt and pepper to taste.

Add the crumbled tofu and Italian seasoning to the pan and raise the heat to medium-high. Cook for about 30 minutes, breaking up the tofu into smaller pieces with a wooden spoon or spatula, stirring every 3-5 minutes. The tofu will gradually turn golden brown – be patient, as it takes some time! The less you fuss with it (especially in the first few minutes), the better the tofu will brown.

After about 30 minutes, once the tofu is broken down into ground meat-size pieces and golden brown, add the tomato paste. Saute for 3 minutes, stirring constantly to get everything well-combined. Then, add in the crushed tomatoes, bay leaves, red pepper, vegetable or chicken broth, and salt and pepper to taste. Simmer for 15-20 minutes.

Meanwhile, bring a large pot of salted water to a boil. Cook the pasta according to the package directions, until al dente. Reserve 1/2 cup of the cooking liquid, and drain pasta. Add the pasta to the skillet with the sauce and toss to combine well, adding some of the cooking liquid if needed to achieve your desired consistency.

Serve immediately, topped with vegetarian cheese and parsley, if desired.

print this recipe