Today, I'm participating in a fun blogger event — the Secret Recipe Club. How does it work? Every blogger is secretly assigned another blog + chooses a recipe from that blog to make. On reveal day (today!), all of our posts go up at the same time, + everyone gets to see who was assigned to their blog, which recipe they chose, + how it turned out. Fun, huh?
I was assigned A Calculated Whisk, a blog full of both tasty sweets AND super scrumptious savory dishes. Y'all may know that I'm a serious meatball lover (as evidenced by My Favorite Meatballs, these Honey-Chipotle Turkey Meatballs, + this Italian Wedding Soup with mini-meatballs, to name a few), so I knew immediately what recipe I wanted to try: these Chicken-Zucchini Meatballs. And y'all, they were AMAZING. They are packed full of flavor, with a wonderfully-caramelized exterior + a tender, juicy, flavorful inside. These were so good that I had them for lunch, right after I made them, and then again for dinner a few hours later. Gotta love a double meatball day! I served mine with zucchini "pasta," but they'd also be fab with couscous, cauliflower-rice, or traditional pasta.

Thank you to Becky for introducing me to these incredibly wonderful meatballs + to the Secret Recipe Club for connecting me, yet again, with fantastic bloggers + amazing recipes! For all my previous Secret Recipe Club recipes, click here – there are TONS of awesome ones!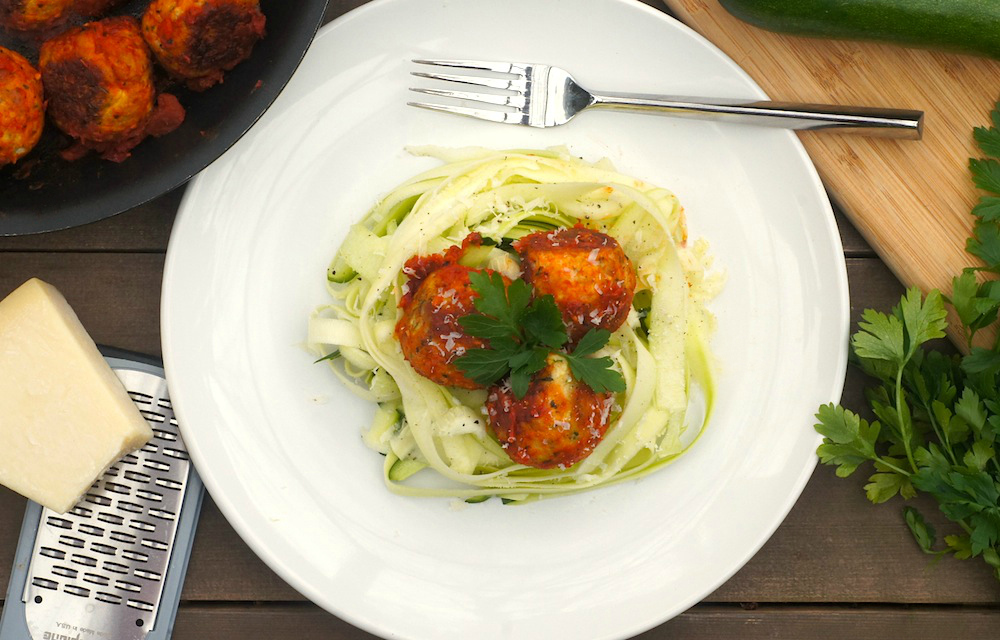 Chicken-Zucchini Meatballs

Makes about 14 meatballs, adapted from A Calculated Whisk

Ingredients

1 medium zucchini, grated
1 shallot, grated
2 cloves of garlic, minced
1 pound ground chicken
1 egg, beaten
1/2 cup almond flour**
1/4 cup coconut flour**
(**NOTE: if you're not concerned with keeping this recipe Paleo, you can substitute 3/4 cup breadcrumbs instead of the almond + coconut flours)
1/2 teaspoon dried Italian seasoning
1/2 teaspoon kosher salt, plus extra for salting the zucchini
1/4 teaspoon pepper
2 tablespoons olive oil
1/2 cup pasta sauce, either homemade or store-bought

Directions

Preheat the oven to 375 degrees F.

Put the grated zucchini in a wire sieve, sprinkle with 1/4 teaspoon of salt, and set aside for about 15 minutes. This will draw the moisture out of the zucchini. After about 15 minutes, squeeze the excess moisture out of the zucchini.

In a large bowl, combine the (squeezed-out) zucchini, shallot, garlic, ground chicken, egg, almond + coconut flours (or breadcrumbs, if you're using those instead), Italian seasoning, salt, + pepper. Mix until just combined (taking care not to over-mix!), using a large spoon or your hands.

Roll the mixture into roughly 14 golf ball-sized meatballs.

Set a large ovenproof skillet over medium heat + add the oil. Once it is shimmering, add the meatballs. Cook until browned on all sides, about 8 minutes. Move the skillet to the oven + bake the meatballs for 5 minutes. Remove the pan from the oven (remember, the handle will be hot!) + pour the pasta sauce over the meatballs, swirling the pan to coat the meatballs. Bake for another 5 minutes, or until the meatballs are cooked through. (Keep an eye on your meatballs in the oven – they can dry out if overcooked.)

print this recipe