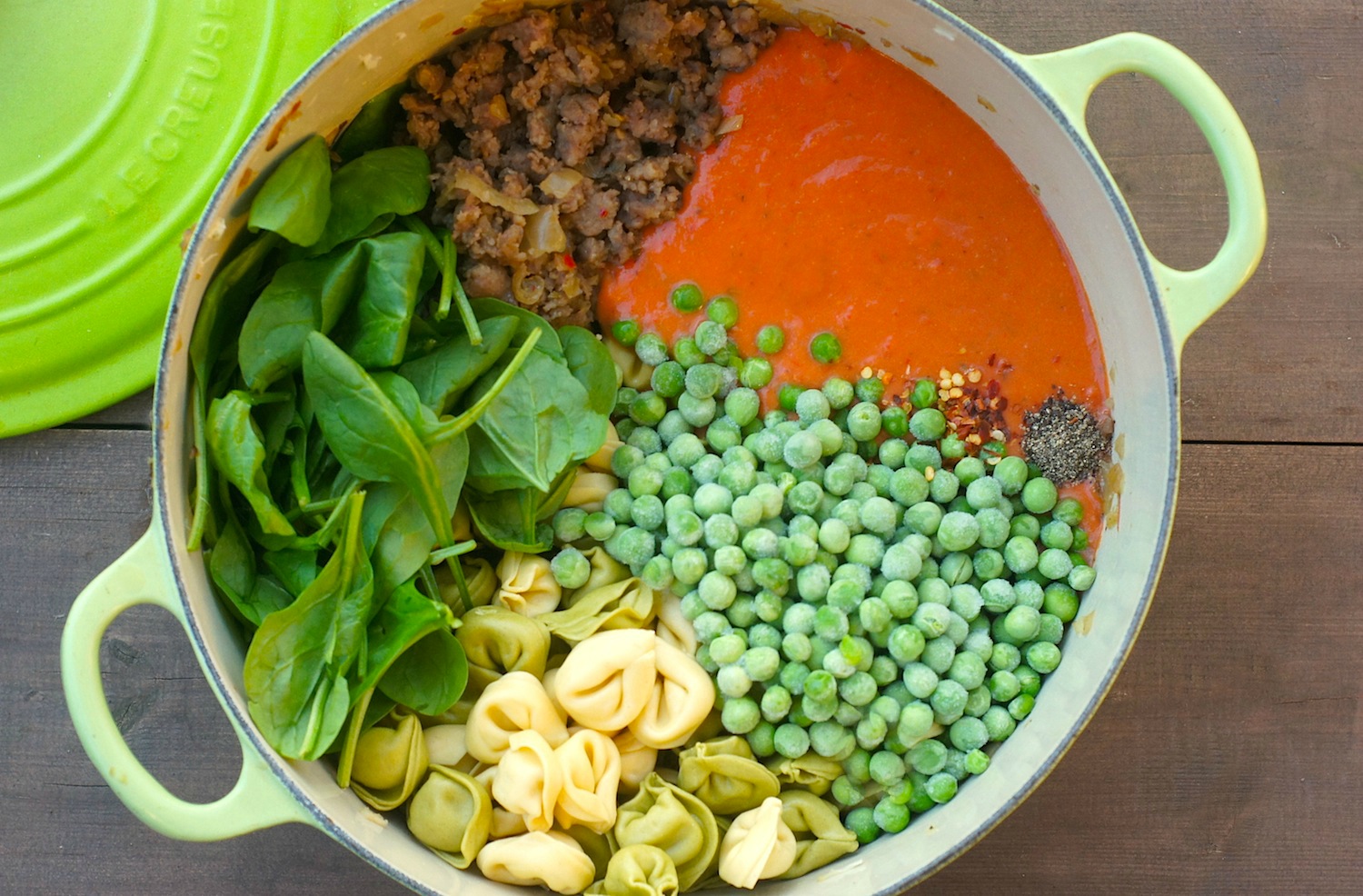 I am such a huge fan of one-pot meals. They are wonderfully quick + easy to come together, you don't need to be juggling 4 different pots/pans over the stovetop, and there is (HOORAY!) only one pot to clean up at the end. My One-Pot Tomato, Basil + Chicken Pasta is now one of my most popular blog recipes, so I thought it was high time to share another one-pot wonder with you: This awesome One-Pot Tortellini with Sausage, Spinach, + Peas.
Y'all, this pasta is SO good. Since I first made this meal a couple months ago, my husband has requested it over + over again, + we now make it at least once every other week. It's a hearty, flavor-packed pasta dish with a perfect combination of different flavors + textures, + a great blend of protein, veggies + carbs. And it's wonderfully customizable, depending on what you love. Don't like sausage? Try substituting ground beef or turkey. Not a huge fan of baby spinach? Get fancy + use arugula or swiss chard instead! Not diggin' vodka cream sauce? A simple marinara or tomato/basil sauce would be awesome. Or even try it with alfredo sauce, yum! The possibilities are endless. =)
And one final bonus, if I haven't already sold you on this dish? The leftovers are fantastic! While I love this as dinner, I almost look forward to the quick-to-heat-up + super delicious lunch leftovers for the next few days even more!
One-Pot Tortellini with Sausage, Spinach + Peas

serves 6-8, a Fearless Homemaker original recipe

Ingredients

1 tablespooon olive oil
1 onion, diced
1 lb. mild italian sausage, casings removed
20 oz. Buitoni mixed cheese tortellini
24 oz. vodka cream sauce (I use Classico brand)
1 cup frozen peas
1/4 teaspoon crushed red pepper (optional – if you want a slightly spicy dish)
2 cups baby spinach
optional: freshly-grated Parmesan cheese for serving

Directions

In a large saucepan or skillet with deep sides, heat the olive oil over medium heat. Add the diced onion + saute for 5-8 minutes, until translucent. Add the ground sausage to the pan, + cook over medium heat, breaking up with a spatula. Saute until cooked-through, about 10 minutes. Drain off any fat.

Add the tortellini, the jar of sauce, 1 jar (24 oz.) of water, frozen peas, + crushed red pepper (if using) to the pot. Bring to a boil + simmer for 15-18 minutes, stirring frequently, until the tortellini are al dente, + most of the liquid is absorbed. Add in the spinach, stir to combine, + cook for 1 minute more, until spinach is just wilted.

Add more salt + pepper if needed, + serve topped with freshly-grated parmesan cheese.

print this recipe