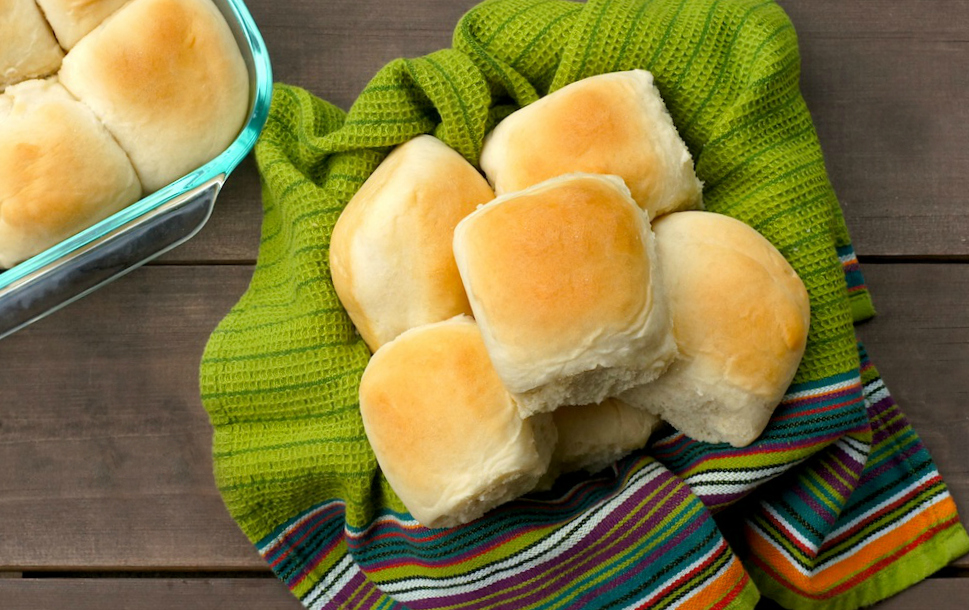 Today, I'm participating in a fun blogger event — the Secret Recipe Club. How does it work? Every blogger is secretly assigned another blog + chooses a recipe from that blog to make. On reveal day (today!), all of our posts go up at the same time, + everyone gets to see who was assigned to their blog, which recipe they chose, + how it turned out. Fun, huh?
I was assigned Angels Homestead, a wonderful blog full of awesome homestyle recipes, crafts, menu plans and more! After reading through lots of April's fabulous recipes, I stumbled across her post about fluffy dinner rolls. They looked and sounded SO amazing that I knew I had to give 'em a try. I gathered up the ingredients and was super pleased at how quickly + easily they came together. And the final result? SO awesome – these rolls are perfectly soft, fluffy, sweet, and seriously addictive. As you can see from the pictures below, they absolutely got Fearless Baby's stamp of approval! =)
Thank you to April for introducing me to these incredibly wonderful dinner rolls + to the Secret Recipe Club for connecting me, yet again, with fantastic bloggers + amazing recipes! For all my previous Secret Recipe Club recipes, click here – there are TONS of awesome ones!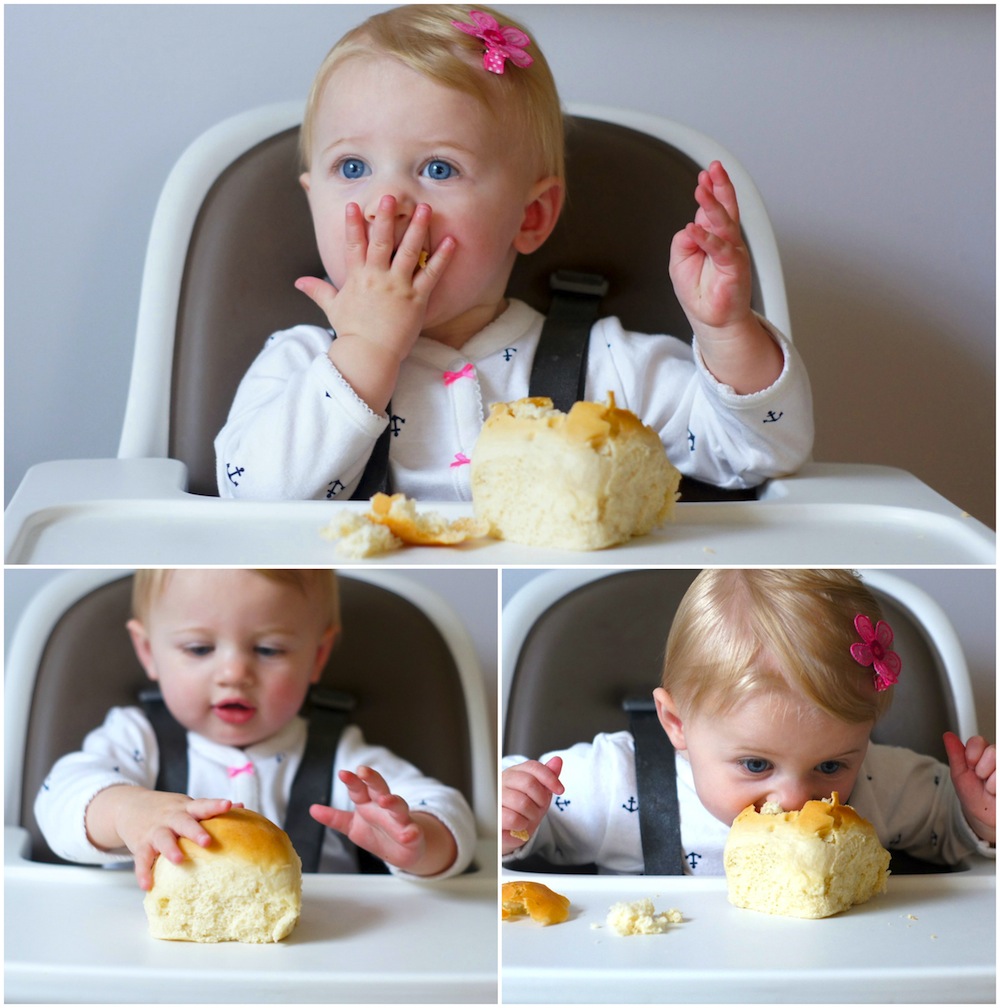 Fluffy Homemade Dinner Rolls

makes 12 large rolls, adapted from Angels Homestead

Ingredients

3/4 cup milk
4 tablespoons unsalted butter
3/4 cup hot water
4 tablespoons sugar
1 teaspoon kosher salt
4 – 4 1/2 cups all-purpose flour
1 heaping tablespoon yeast

Directions

Preheat the oven to 170 degrees F.

Pour milk into a microwave-safe container. Add the butter to the milk and microwave it for 1.5 minutes, until the butter is completely melted and the mixture is hot.

Turn on the tap to get your hot water. The warm temperature is important to making these rolls rise quickly. The water should be hot enough to the touch that it is just on the edge of unpleasant.

Put the hot milk/butter and the hot water in your stand mixer fitted with the paddle attachment. Add the sugar, salt, and 2 cups of the flour. Mix for 1 minute with the paddle attachment. Add the yeast, and the remainder of the flour, 1 cup at a time. You will know you've added enough flour when the dough scrapes the side of the bowl clean. Switch the dough hook at this point, and mix on medium speed for 5 minutes.

Cover the bowl with plastic wrap and let sit for 5 minutes. Meanwhile, generously butter a 9×13 baking dish.

Spray your countertop or a cutting board with cooking spray. Lay your dough on top of it. Take a sharp knife, spray it with cooking spray and cut your dough into 12 pieces. Make them as equal as you can, although absolute perfection isn't necessary. Gently round them into balls, and put them in your buttered 9×13 baking dish.

Put the baking dish into your warm 170 degree F oven. Let the rolls rise for about 20-30 minutes or until they have risen about 1 inch above the rim of the pan.

Leave your pan in the oven and turn the heat up to 350 degrees F. Bake for about 20 minutes, until they are golden. This baking time includes the time it takes the oven to increase in temperature. If your oven takes a long time to heat, you may need to allow them to bake for longer. In the last 5 minutes of cooking, brush rolls gently with melted butter, and continue baking until golden brown.

print this recipe