Recently, Fearless Toddler has been learning lots about colors. She is so proud of herself for being able to say the names of the different colors + tell us which of her toys are red, which are blue, which are green, etc. So, one day last week while she was taking her afternoon nap, I decided to make a homemade funfetti cake as a surprise for her. I knew that combining her favorite things — cake! sweets! colors! — was sure to be a big success. I looked up a few different recipes, found one that used all ingredients that I already had in the house (woohoo!) + got baking.
And the result? This cake turned out fantastic. It was super quick + easy to make, incredibly buttery, soft, + flavorful, + was a huge hit with both Fearless Toddler AND the adults in the house. It *did* turn out denser than a typical boxed funfetti cake mix, but after reading the comments/questions posted on the original recipe, that appeared to be common + expected. I actually loved the texture, and found that it got even softer + more delicious the day after it was made. For the buttercream, I used Recipe Girl's buttercream recipe that I use all the time. I've tried many buttercream recipes, and this is the absolute best – it tastes excellent and always is the perfect consistency.
I had extra sprinkles, so I decorated the cake with a rainbow sprinkle border + a simple sprinkle heart in the middle. Fearless Toddler was SO impressed when I surprised her with it after dinner. WOW!, she kept saying. And not surprisingly, she loved it – the cake, the buttercream, and most of all, all the fun colors. So, if you're looking for a simple, delicious, colorful cake, give this a try!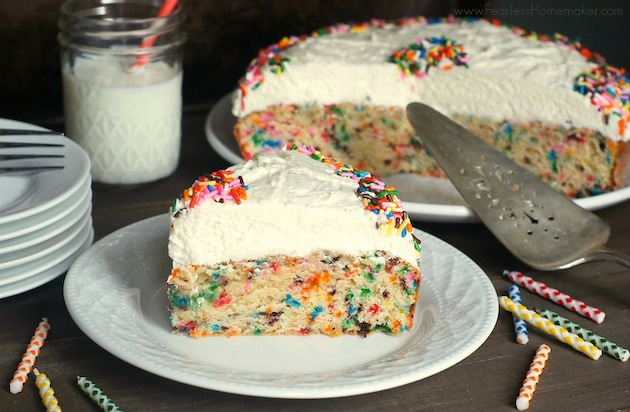 Easy Homemade Funfetti Cake with Vanilla Buttercream

serves 10-12, cake adapted from Sally's Baking Addiction + buttercream adapted from RecipeGirl

Ingredients

For the Funfetti Cake:
1 2/3 cup all-purpose flour, (careful not to overmeasure!)
1/2 teaspoon baking powder
1/4 teaspoon baking soda
1/2 teaspoon salt
1/2 cup (1 stick) unsalted butter
3/4 cup granulated sugar
1/4 cup packed light brown sugar
1 large egg
1/4 cup yogurt (plain or vanilla)
3/4 cup milk
1 Tablespoon vanilla extract
2/3 cup rainbow sprinkles (plus more for decorating the cake, if desired)

For the Vanilla Buttercream:
3 cups powdered sugar
1 cup butter, at room temperature
1 teaspoon vanilla extract
1 to 2 Tablespoons whipping cream

Directions

Make the cake: Preheat oven to 350 degrees F. Generously grease and flour a 9-inch round pan. Set aside.

In a medium bowl, whisk together the flour, baking powder, baking soda, and salt. Set aside.

In a large microwave-safe bowl, melt the 1 stick of butter in the microwave. Whisk in both white and brown sugars vigorously until no lumps remain – mixture will be gritty. Whisk in the egg, yogurt, milk, and vanilla extract until combined. Slowly mix this wet mixture into the dry flour mixture until no lumps remain. Batter will be thick. Slowly fold in sprinkles, but do not overmix because that will cause the sprinkles to bleed their color into the batter.

Pour the batter into the prepared cake pan. This cake takes around 33-36 minutes to bake. What I suggest is to bake it for 20 minutes, then cover loosely with aluminum foil (loosely to avoid the top from sticking to the foil) and continue baking for 13-16 more minutes or until a toothpick inserted in the center comes out clean. Allow to cool for 10 minutes in the pan, and then turn the cake out onto a cooling rack and let it cool completely.

Make the buttercream: In a large bowl, with a hand or stand mixer, cream together sugar and butter on low speed. Mix until well blended. Increase speed to medium and beat for another 3 minutes. Add vanilla and cream and continue to beat on medium speed for 1 minute more, adding more cream if needed for desired consistency. Once cake is completely cool, spread the buttercream evenly on cake + decorate with more sprinkles, if desired.

print this recipe