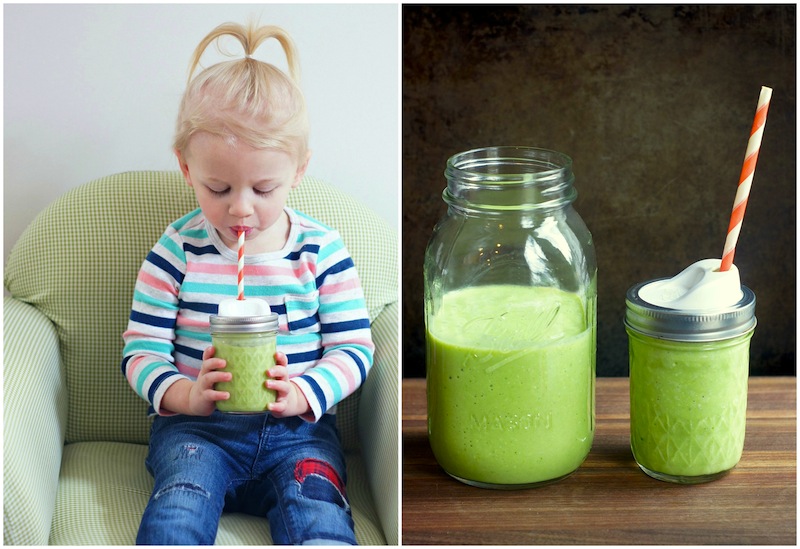 I love celebrating holidays now that I have a child. With a nearly-2-year-old at home, I'm always looking for ways to teach her about holidays through crafts, activities, books and food. With St. Patrick's Day right around the corner, what better time to share some delicious, healthy, kid-approved green snacks?
First up: green smoothies! My daughter loves fruit smoothies, but I was skeptical about whether she'd go for a green one because, well, it's green. The more involved I let her be in the food-preparation process, however, the more likely she is to eat the result. For this recipe, I let her assist with washing spinach, peeling the banana, measuring ingredients and putting it all in the blender. After watching it whir and turn a gorgeous green, I asked, "Do you want to try it?" Her response was an enthusiastic yes. Much to my delight, she loved it! It doesn't hurt that these smoothies are absolutely delicious – they're creamy, citrusy and coconutty, like something you'd enjoy on a Caribbean vacation.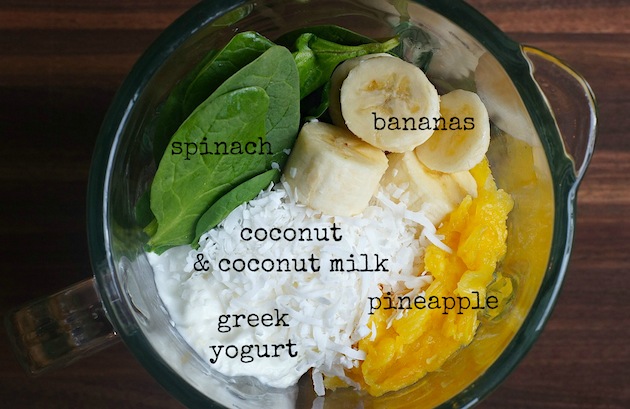 Tropical Green Smoothie

makes 3.5 cups (two adult-sized smoothies, or four kid-sized smoothies), adapted from SkinnyTaste

Ingredients

3/4 cup coconut milk
3/4 cup Greek yogurt
3/4 cup fresh pineapple, cubed
1 ripe medium banana
1 cup spinach, packed
2 Tbsp shredded coconut (I prefer unsweetened)
1 1/4 cups ice

Directions

Put all ingredients into the blender + blend until smooth. Serve immediately.
Another super simple, healthy green snack? Fruit, which is made extra fun and appealing when skewered. Again, I let my daughter take an active role in this snack, helping me choose some perfect green fruits from the grocery store. We went with apples, pears, grapes, kiwis, and starfruit. She helped me wash the fruit, then I sliced and skewered them for a pretty presentation. Older children can help with the skewering (which becomes a fabulous art project unto itself), but because my daughter is so young, I felt the pointy skewers were best left in my adult hands. She did clap when I showed her the fruit skewers and loved chowing down on the fruits that I reminded her that SHE had selected from the store.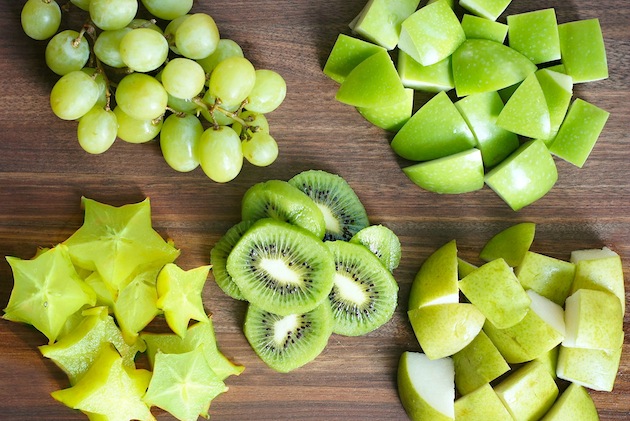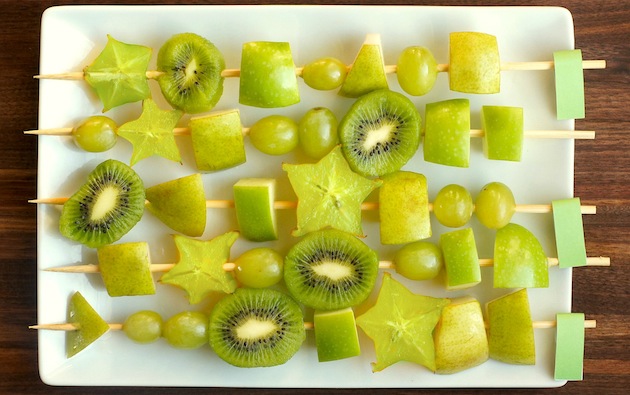 If you've got veggie-loving kids at home, you could do similar skewers with fresh green vegetables, and serve them with a favorite salad dressing or hummus for dipping, because kids love anything they can dip!
And don't forget, there are lots of other naturally-green, kid-friendly foods. Some of my daughter's current favorites include guacamole (or really, anything avocado-based), edamame, pasta with pesto, broccoli, and peas. Does your family have any favorite green foods that might make an appearance on St. Patrick's Day?