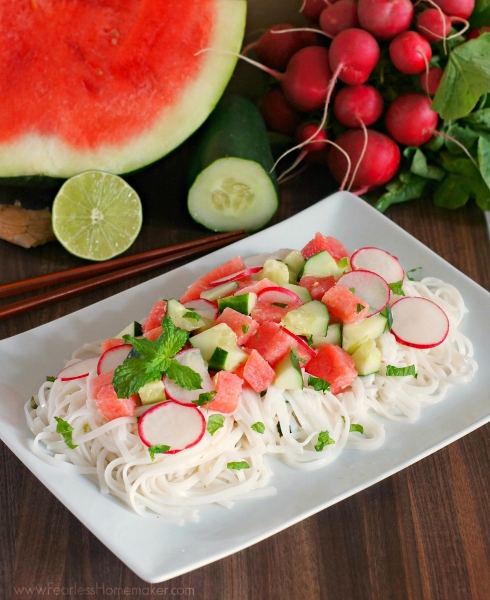 Today, I'm participating in a fun blogger event — the Secret Recipe Club. How does it work? Every blogger is secretly assigned another blog + chooses a recipe from that blog to make. On reveal day (today!), all of our posts go up at the same time, + everyone gets to see who was assigned to their blog, which recipe they chose, + how it turned out. Fun, huh?
This month I was assigned 84th & 3rd, a beautifully-photographed blog with an emphasis on unprocessed, healthy, delicious recipes. Choosing a recipe actually proved quite challenging, because there were SO many with intriguing new-to-me flavor combinations and/or ingredients. In the end, I chose this Watermelon & Cucumber Salad, because we have fresh cucumbers growing in our garden, watermelons are juicy, + in season, and I love rice noodles. And what a beautiful, scrumptious, bright, light salad this is! Crisp cucumber, sweet watermelon, peppery radish, and my beloved rice noodles are tossed with a sweet-tangy coconut-lime-mint dressing. The combination of flavors, textures, (and colors!) is absolute perfection – this is sunshiny summer on a plate, y'all.
Thank you to JJ for introducing me to this exquisite summer salad + to the Secret Recipe Club for connecting me, yet again, with fantastic bloggers + amazing recipes! For all my previous Secret Recipe Club recipes, click here – there are TONS of awesome ones!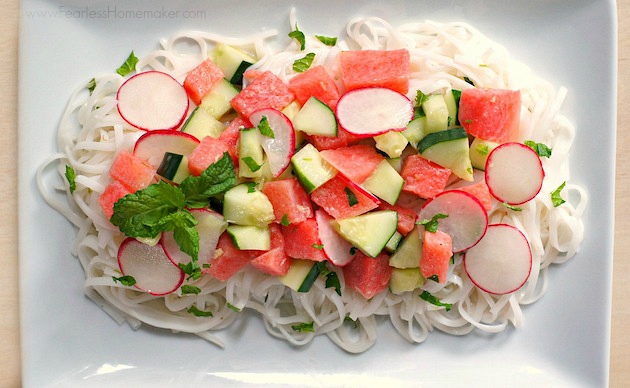 Watermelon and Cucumber Rice Noodle Salad

serves 1-2, adapted from 84th & 3rd

Ingredients

3/4 cup coconut milk
juice and zest of 1/2 lime (reserve other 1/2 of lime for garnish)
1″ fresh ginger, grated
1/8 cup fresh mint leaves, chopped, divided
1/8 teaspoon kosher salt
1 tablespoon rice wine vinegar
1 cup watermelon cubes
1 cup chopped cucumber
4 radishes, thinly-sliced
4 ounces rice vermicelli noodles

Directions

In a small bowl, whisk together the coconut milk, lime zest/juice, grated ginger, half of the chopped mint leaves, kosher salt, and vinegar. Set aside.

In another bowl, combine the watermelon, cucumber, and radishes and toss with half of the prepared coconut-lime dressing.

Bring a large pot of salted water to a boil, add the rice noodles and cook for 2-3 minutes, or until they are just becoming tender. Drain, rinse well with cold water and drain again. Toss with the remaining coconut-lime dressing.

Assemble the salad: Place the dressed rice noodles in a large bowl or plate. Top with the dressed watermelon/radish/cucumber. Sprinkle with the remaining chopped mint leaves. Serve at room temperature, or cold, depending on your preference.

print this recipe