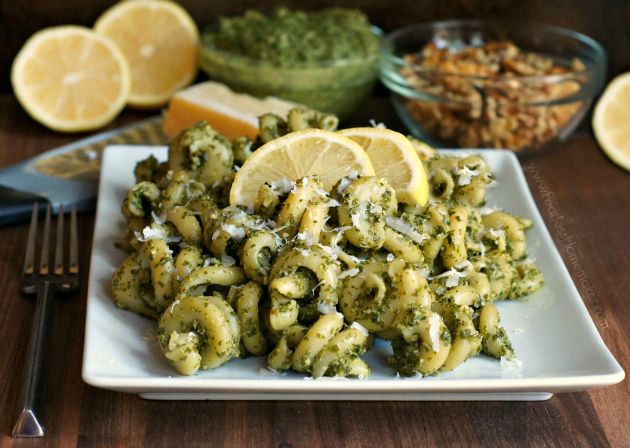 Today, I'm participating in a fun blogger event — the Secret Recipe Club. How does it work? Every blogger is secretly assigned another blog + chooses a recipe from that blog to make. On reveal day (today!), all of our posts go up at the same time, + everyone gets to see who was assigned to their blog, which recipe they chose, + how it turned out. Fun, huh?
This month I was assigned Bewitching Kitchen, a blog with amazing recipes from a variety of cultures (author Sally is Brazilian-born and raised, and has since lived in Paris, California, and Kansas, so her blog features recipes and cuisines from all over the world). I decided to make her Pasta with Kale Pesto, as I adore a traditional basil pesto, but had never tried a kale version, and was intrigued.
And y'all, I LOVED this meal. The pesto has a wonderful kale flavor that is brightened up with a lemony punch and a bit of tartness from the Greek yogurt. Between the walnuts and the kale, it's more textured than a traditional basil pesto, which I loved – it has a beautiful body and substance to it. And while it was hearty, it actually felt a lot lighter to me than a traditional basil pesto – perhaps because it uses an olive oil/yogurt mixture, instead of just olive oil. All in all, a perfect autumn spin on pesto, and a fabulous meatless meal that will be going on regular rotation in our kitchen.
Thank you to Sally for introducing me to this awesome pesto + to the Secret Recipe Club for connecting me, yet again, with fantastic bloggers + amazing recipes! For all my previous Secret Recipe Club recipes, click here – there are TONS of awesome ones!
Pasta with Kale Pesto

adapted from Bewitching Kitchen and Epicurious.com

Ingredients

1 bunch of kale, stems removed, leaves coarsely chopped
1/2 teaspoon sea salt
1/8 cup olive oil
1/4 cup of walnuts, toasted*
1/8 cup lemon juice
1/4 cup Greek yogurt
1/2 cup grated Parmesan cheese, plus extra for serving
1 pound short pasta (I used trotolle)

*If you cannot find toasted walnuts, simply toast them yourself! Heat oven to 350° F. Spread the walnuts on a rimmed baking sheet and toast, tossing occasionally, until fragrant, 6 to 8 minutes; let cool.

Directions

Bring a large pot of salted water to a boil. Add the kale and cook until bright green, 1-2 minutes. Transfer the kale to a colander; squeeze dry when cool enough to handle.

In a food processor, combine the kale leaves and salt. Pulse 10 to 12 times, until the kale leaves are finely chopped. With the motor running, drizzle in the olive oil. Scrape down the sides of the processor. Add the walnuts and process again, then add the lemon juice, yogurt, and parmesan cheese and pulse to combine. Add salt/pepper if needed, to taste.

Meanwhile, bring a large pot of salted water to a boil and cook the pasta according to the package directions, until al dente. Reserve 1/2 cup of the cooking water; drain the pasta and return it to the pot. Add the pesto and 1/4 cup of the reserved cooking water and toss to coat (add more cooking water if the pasta seems dry). Top the pasta with extra grated parmesan cheese, and serve immediately.

print this recipe