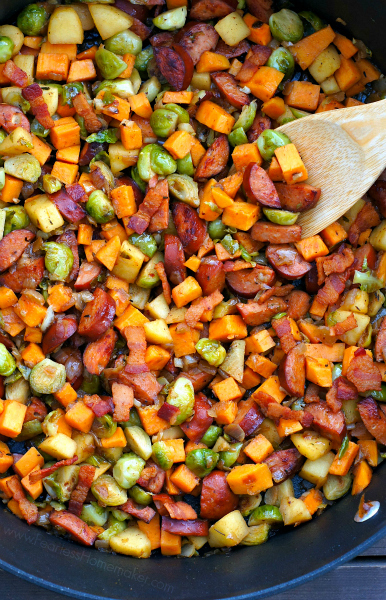 With the holiday season in full swing, you're likely seeing lots of decadent sweets and fancy holiday meals on your favorite food blogs. Since other blogs have those things covered, I'm bringing you something totally different: a healthy, hearty, scrumptious one-skillet meal, that takes less than 30 minutes to make. It's packed with some of my favorite fall/winter produce — sweet potatoes, brussels sprouts, and apples — along with a generous helping of chicken sausage, aromatics, herbs, and some tasty bacon to kick things up a notch.
Why I am I sharing this recipe now? First, many holiday tables feature sweet potatoes, apples, and/or brussels sprouts, and this is a great way to use up any of those that you have leftover after the holiday festivities. And second, after eating and making lots of rich, indulgent, special occasion-food, I crave foods that are lighter, cleaner, and quick-to-make. This one-skillet meal is all of those things, plus it is absolutely delicious. The combination of flavors and textures is perfect. Tender sweet potatoes, earthy brussels sprouts, caramelized sausage, crisp bacon, and sweet apples marry beautifully, with the help of savory aromatics, herbs, and a dash of balsamic vinegar. I found this meal to be wonderfully complete on its own, but if you want to round it out even more, try serving with farro, quinoa, or wild rice — all of those would complement this fantastically.
Happy Holidays, everyone! I hope you all have a excellent holiday season full of fabulous family, friends, and food. And I can't wait for you to try this recipe — I think you will love it!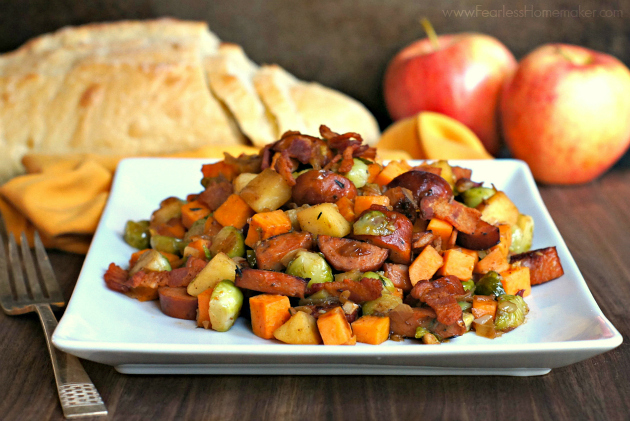 Chicken Sausage Skillet with Sweet Potatoes, Brussels Sprouts, + Apples

serves 4-6, adapted from Well Plated

Ingredients

1 tablespoon olive oil
1 pound chicken sausage, cut into 1/2-inch half-moons
4 slices thick-cut bacon, chopped
3 cups Brussels sprouts, trimmed and quartered (about 3/4 pound)
1 medium sweet potato, peeled and cut into 1/2 inch cubes (about 8 ounces)
1 medium onion, finely chopped
2 teaspoons dried Italian seasoning (OR 1 teaspoon fresh Italian herb blend)
kosher salt and freshly-ground black pepper
2 Granny Smith apples, peeled, cored and cut into 3/4 inch cubes
4 cloves garlic, minced (about 2 teaspoons)
1 cup reduced-sodium chicken broth
1 tablespoon balsamic vinegar

Directions

Heat the olive oil in a large skillet over medium heat, until hot and shimmering. Add the chicken sausage, stirring occasionally, and cook until browned, 5-7 minutes. Transfer to a plate, and set aside.

Reduce skillet heat to medium low. Add the chopped bacon and cook until crisp, and the fat has rendered, about 4 minutes. Transfer the bacon with a slotted spoon to the same plate with the cooked chicken sausage. Discard all but 1 1/2 tablespoons bacon fat from the pan.

Increase skillet heat back to medium high. Add the Brussels sprouts, sweet potato, onion, Italian seasoning, 1/2 teaspoon salt, and 1/2 teaspoon pepper. Cook, stirring occasionally, until crisp-tender and the onions are beginning to turn translucent, about 8-10 minutes.

Stir in the apples and garlic. Cook for a minute, then pour in the chicken broth. Bring to a boil and cook until evaporated, about 3-4 minutes. Add the reserved chicken sausage, reserved bacon, the balsamic vinegar, and cook until heated through, about 2 minutes. Add more salt and pepper to taste. Serve immediately.

print this recipe