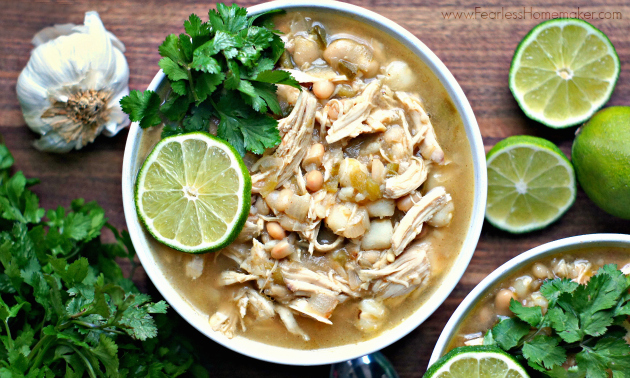 Today, I'm participating in a fun blogger event — the Secret Recipe Club. How does it work? Every blogger is secretly assigned another blog + chooses a recipe from that blog to make. On reveal day (today!), all of our posts go up at the same time, + everyone gets to see who was assigned to their blog, which recipe they chose, + how it turned out. Fun, huh?
This month I was pleased to be assigned Karen's Kitchen Stories, as I've cooked from her blog many times. (This Oven-Fried KFC Copycat Chicken is one of our family's go-to meals). We're in the midst of a very cold stretch of weather in Nashville, so I decided to make her belly-warming Slow-Cooker Chicken Chili and am so glad I did – it turned out amazing! This chili is made low-and-slow in the crock-pot with bone-in chicken, which results in super tender, flavorful chicken. It's packed with sautéed onions/garlic/jalapenos, white beans, hominy, green chiles, and bold spices for lots of depth, plus lime and cilantro for brightness. My husband and I loved it (which wasn't surprising, as we love soups/stews like this), and I was thrilled to see that my 2-year-old gobbled it up, too! While it has a ton of flavor, it's not super spicy (jalapeños mellow out significantly after sautéing), so she devoured it. After a chilly day, this was a perfect way to deliciously warm ourselves up.
Thank you to Karen for introducing me to this fantastic slow-cooker meal + to the Secret Recipe Club for connecting me, yet again, with fantastic bloggers + amazing recipes! For all my previous Secret Recipe Club recipes, click here – there are TONS of awesome ones!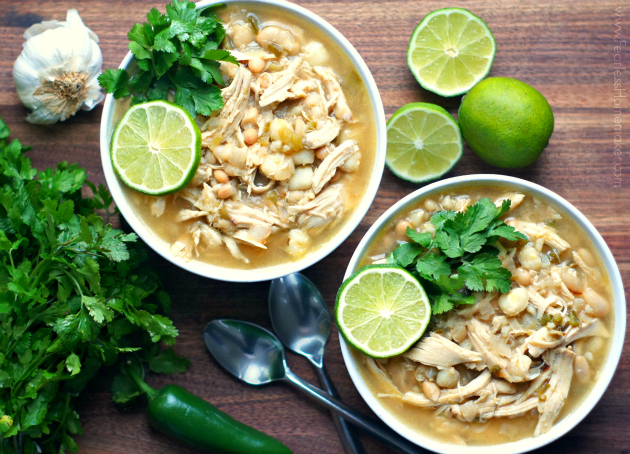 Slow-Cooker Chicken, White Bean, + Hominy Chili

serves 6, adapted from Slow Cooker Revolution by America's Test Kitchen + Karen's Kitchen Stories

Ingredients

3 cups low sodium chicken broth, divided
2 15 ounce cans of hominy, divided, drained and rinsed
2 tbsp vegetable oil
2 onions, minced
4 jalapeños, seeded and minced
6 garlic cloves, minced
4 tsp ground cumin
2 tsp ground coriander
1/2 tsp chili powder
2 15 ounce cans of cannellini beans, drained and rinsed
4 ounce can of fire-roasted diced green chiles
3 pounds bone-in chicken breasts, skin removed
salt and pepper
the juice of 1 lime
1/4 cup minced fresh cilantro,
For garnish: extra cilantro, lime wedges, sour cream, and/or cotija cheese

Directions

In a blender, puree 2 cups of the broth and 1 can of hominy until smooth. Pour the mixture into a 6-7 quart slow-cooker.

In a 12-inch skillet, heat the oil on medium heat until shimmering. Add the onion, jalapeños, garlic, cumin, coriander, and chili powder, and cook for about 10 minutes, until the onions are softened. Add the remaining 1 cup of the broth to deglaze the pan, scraping up any brown bits. Add this mixture to the slow-cooker.

Add the beans, remaining 1 can hominy, + diced green chiles to the slow-cooker, and stir everything to combine well. Season the chicken generously with salt and pepper and place the pieces into the slow-cooker. Cover and cook on LOW for 5-6 hours, until the chicken is cooked through and tender.

Remove the chicken pieces from the slow cooker to a plate or cutting board, and let sit for about 10 minutes. Remove the meat from the bones and shred the meat into large bite-size pieces with two forks.

Skim any fat off of the surface of the chili in the slow-cooker with a ladle. Add the shredded chicken back into the slow-cooker, along with the juice of 1 lime, cilantro, and salt + pepper to taste. Cover, and leave the cooker on warm until you are ready to serve.

Serve with the toppings of your choosing, such as extra cilantro, lime wedges, sour cream, and/or cotija cheese.

print this recipe