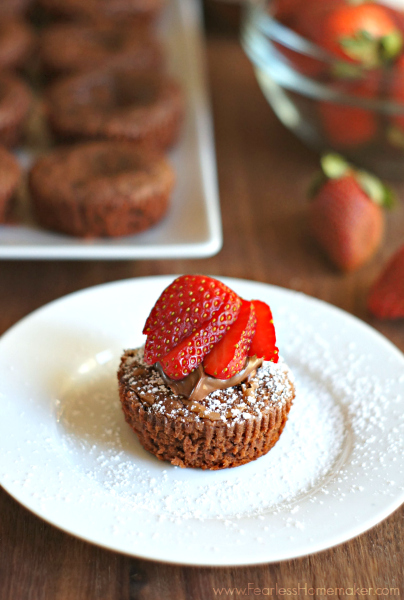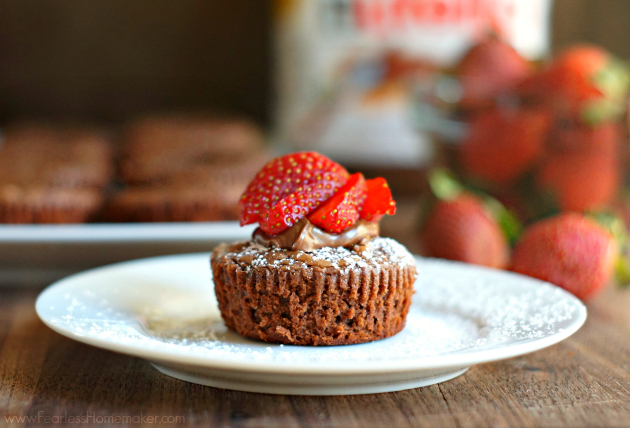 Today, I'm participating in a fun blogger event (for the last time!*) — the Secret Recipe Club. How does it work? Every blogger is secretly assigned another blog + chooses a recipe from that blog to make. On reveal day (today!), all of our posts go up at the same time, + everyone gets to see who was assigned to their blog, which recipe they chose, + how it turned out. Fun, huh?
This month I was assigned My Wholefood Family, a wonderful blog featuring real, whole food-based family-friendly meals, snacks, and sweets. After reading through tons of her amazing recipes, I decided to try out her Nutella Brownie Bites, and they turned out amazing! My two-year-old loves Nutella (don't we all?), so she was my inspiration for making them, but in the end, the whole family loved them equally. She enjoyed hers as-is, still slightly warm from the oven (pictured below!), while we enjoyed ours "dressed up" – dusted with confectioner's sugar, and topped with fresh strawberry secured in place with a teeny dollop of Nutella. Including both prep and baking time, they took less than 30 minutes total – you cannot beat that, especially for something so crazy delicious!!
Thank you to Susan for introducing me to these scrumptious lil' Nutella brownies + to the Secret Recipe Club for connecting me, yet again, with fantastic bloggers + amazing recipes! For all my previous Secret Recipe Club recipes, click here – there are TONS of awesome ones!
*I have been a Secret Recipe Club member since 2011, and I have posted over 30 recipes as part of the group. It has been a joy to be part of the SRC, and I have made countless blogging friends and connections through it. But, after nearly 5 years with the group, I'm stepping down. You see, life got really busy in the last 5 years. In that time, I got married, had a baby, and significantly increased my work responsibilities. I'm finding less time to blog, and I don't want to hold up a spot in the SRC (there's a waiting list to join), if I'm not fully engaged in it. So, this is my last post with the Secret Recipe Club. In related news, I will also be blogging less overall. Instead of my usual one-post-a-week, I will likely post once or twice each month. This blog isn't going anywhere, and I'll still be here, cooking and baking, but I'm going to use that saved time to focus more fully on my family, my friends, and my job.*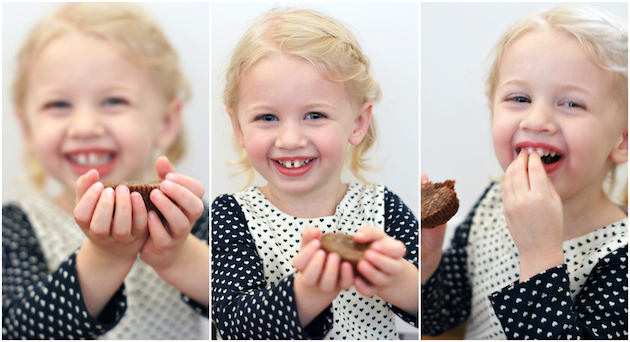 4-Ingredient Nutella Brownie Bites

makes 12, adapted from My Wholefood Family

Ingredients

1 cup Nutella
2 eggs
1 teaspoon vanilla extract
1/2 cup plus 2 tablespoons all-purpose flour

Instructions

Preheat oven to 350 degrees F.

Line a regular (not a mini) 12-cup muffin tin with paper liners, and lightly spray the paper liners with canola oil spray (this makes for easier/cleaner removal of the brownies from the muffin cups).

In a medium bowl, mix together the Nutella, eggs, and vanilla extract until smooth. Add in the flour and mix until just combined. Divide evenly between the 12 muffin cups (they will only be about half full).

Bake for 12 minutes, until they are set on top – they will still be delightfully fudgy in the middle. Let cool for 10 minutes in the muffin tin, and then transfer individual brownie cups to a wire rack to finish cooling.

Serve warm or at room temperature, as is, or topped with ice cream, whipped cream, strawberries, or the topping of your choice.

print this recipe