valentine's day is approaching, + we always celebrate in a low-key way. we don't exchange big gifts or go out for an extravagant dinner (restaurants are too chaotic on valentine's day for me), instead dedicating a night to cooking at home together. last year we made seared scallops with a tarragon butter sauce, then peppercorn-crusted filet mignon alongside roasted brussels sprouts with garlic + pancetta.
i can't believe that i didn't take any pictures, as it all turned out amazing! this year, i'll definitely take some, although we still haven't chosen our menu. braised short ribs sound awfully good, so that's in the running, although i've been thinking about lamb or pork tenderloin lately, instead. whatever it is, i'm sure it'll be wonderful + i promise to report back on it (with pictures).
now, the main reason for this post: a fancy valentine's dinner needs a rich dessert to accompany it! when i recently made these cookies, i knew they'd be perfect for the holiday + that i had to share them with you all. they are rich, chocolaty, + are gorgeous to look at. so, if you're still looking for a valentine's day sweet, maybe this is the one? i'd love to hear how you celebrate valentine's day, whether it's cooking at home with friends, a fancy meal out with your spouse, or anything in between!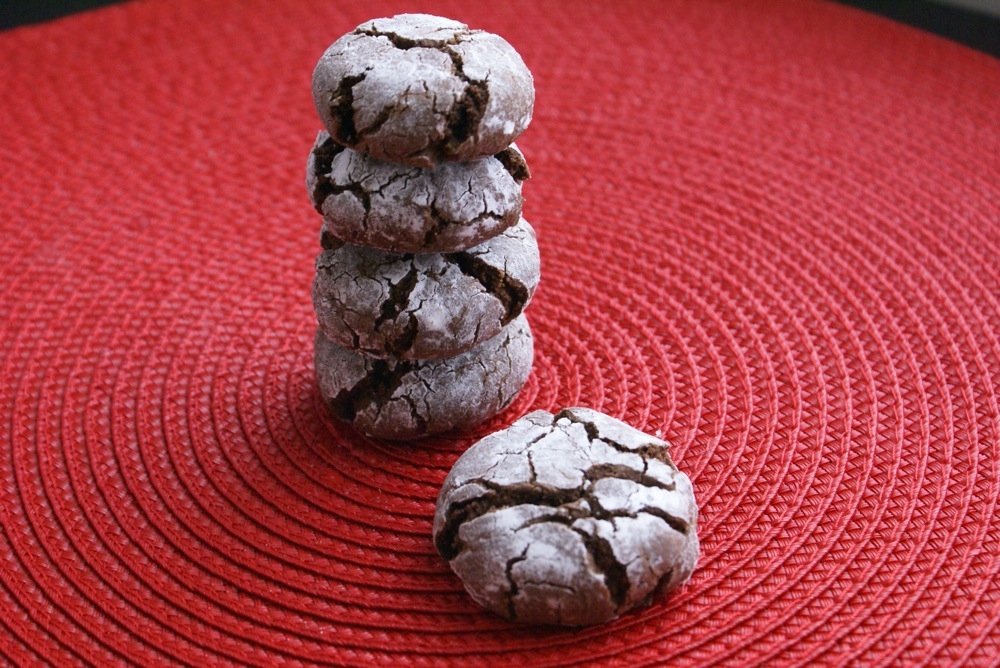 chocolate crackle cookies

males about 4 dozen cookies, adapted from martha stewart living

ingredients

8 ounces bittersweet chocolate, melted + cooled
1 1/4 cups all-purpose flour
1/2 cup dutch cocoa powder
2 teaspoons baking powder
1/4 teaspoon salt
8 tablespoons (1 stick) unsalted butter, room temperature
1 1/3 cups light brown sugar, firmly packed
2 large eggs
1 teaspoon pure vanilla extract
1/3 cup milk
1 cup confectioners' sugar, plus more for rolling

directions

heat oven to 350 degrees. chop bittersweet chocolate into small bits, + melt over medium heat in a heat-proof bowl or the top of a double boiler set over a pan of simmering water. set aside to cool. sift together flour, cocoa, baking powder, + salt.

in the bowl of a heavy-duty electric mixer fitted with the paddle attachment, beat butter + light brown sugar until light + fluffy. add eggs + vanilla, + beat until well combined. add melted chocolate. with mixer on low speed, alternate adding dry ingredients + milk until just combined. divide the dough into quarters, wrap with plastic wrap, + chill in the refrigerator until firm, about 2 hours.

on a clean countertop, roll each portion of dough into a log approximately 16" long + 1" in diameter, using confectioners' sugar to prevent sticking. wrap logs in plastic wrap, + transfer to a baking sheet. chill for 30 minutes.

cut each log into 1" pieces, + toss in confectioners' sugar, a few at a time. using your hands, roll the pieces into a ball shape. if any of the cocoa-colored dough is visible, roll dough in confectioners' sugar again to coat completely. place the cookies 2" apart on a parchment paper-lined baking sheet. bake until cookies have flattened + the sugar splits, 12 – 15 minutes.

transfer from oven to a wire rack to let cool completely. store in an airtight container for up to 1 week.

print this recipe