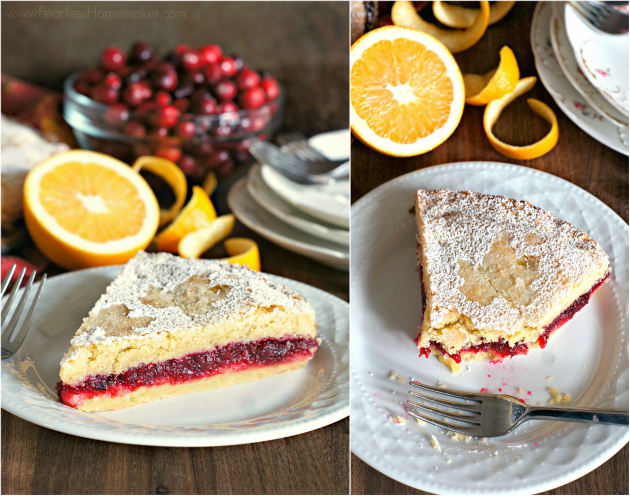 Many people who celebrate Thanksgiving have one Thanksgiving flavor that they look forward to the most. For many, it's the turkey. For others, it's the pumpkin pie. But for me, it's fresh cranberries. I adore cranberries in jams, chutneys, and relishes, and love them even more so in baked goods + sweets. And now, let me introduce what is quite possibly my favorite dessert I've ever made — Cranberry Shortbread Cake.
While I love a chocolaty dessert as much as anyone else, this is the type of dessert that really appeals to me — it's a bit unexpected (who would've thought to pair shortbread with cranberry!?), and exquisitely, creatively showcases a fresh, seasonal fruit. Buttery, luscious, beautifully-textured shortbread cake, is paired with a perfectly sweet-and-tart freshly-made cranberry/orange jam. The combination of flavors and textures in this cake is out-of-this-world amazing.
Presentation-wise, I initially planned to serve this cake with no garnish or decoration. However, while I was smelling it baking, I sensed it was going to be an exquisite dessert, and I wanted its presentation to wow as much as its flavors. So, I took some small paper leaves, laid them decoratively on top of the cake, and sifted a fine layer of powdered sugar over the cake. I then removed the paper leaf "stencils" and voilà! A cake as beautiful as it is scrumptious.
If you are looking for a head-turning, palate-pleasing dessert to add to your Thanksgiving menu (or any meal this fall), look no further. This cake is all sorts of deliciously spectacular!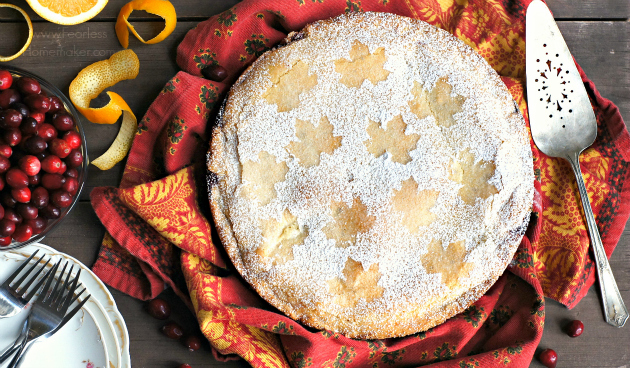 Cranberry Shortbread Cake

serves 10-12, adapted from Dorie Greenspan

Ingredients

For the jam filling:
1 large navel orange
1/4 cup of orange juice
1 12-ounce bag of fresh cranberries
1 cup sugar

For the shortbread cake:
2 1/2 cups flour
1 teaspoon baking powder
Pinch of salt
13 tablespoons unsalted butter, room temperature
1 cup plus 2 teaspoons sugar
1 large egg
1 large egg yolk
1 teaspoon vanilla extract

Optional: powdered sugar, for decorating

Directions

Make the jam filling:
Grate the zest of an orange into a medium heavy-bottomed saucepan. Slice off the peel, removing the white, cottony pith that sticks to the fruit, and slice between the membranes to release the orange segments. Cut the segments into 1/4-inch wide pieces and toss these into the pan and add the orange juice.

Put the cranberries in the pan, stir in the sugar, set the pan over medium heat and bring to a boil, stirring frequently. Cook, stirring almost constantly, until the cranberries pop and your spoon leaves tracks, between 5 – 10 minutes.

Scrape the jam into a bowl and taste it, if it's too tart, add more sugar to taste. Cool to room temperature. (The filling can be made up to 2 weeks ahead and stored in an airtight container in the refrigerator)

Make the shortbread cake dough:
Whisk together the flour, baking powder and salt.

Working with a stand mixer fitted with a paddle attachment, (or with a hand mixer in a large bowl), beat the butter on medium speed until soft and smooth. Add 1 cup of sugar and continue to beat until it dissolves into the butter. Reduce the mixer speed to low and add the egg and egg yolk and, beating until they too are absorbed. Beat in the vanilla. Add the flour mixture, mixing only until it is incorporated; since this is a delicate dough, one that should not be over beaten, you might want to finish mixing in the flour by hand using a sturdy spatula. You'll have a thick dough, one that is quite malleable.

Turn the dough out onto a smooth surface and gather it together in a ball, then divide in half and pat each half into a disk. Wrap the disks in plastic and refrigerate them for 15 to 30 minutes. (If needed, the dough can be refrigerated overnight; set it out at room temperature for about 20 minutes before proceeding)

Assembling and baking:
While the dough is chilling, center a rack in the oven and preheat the oven to 350 degrees F. Generously butter a 9" springform pan (preferably nonstick), line the bottom with parchment paper, and butter the parchment paper.

Work with one piece of dough at a time. For the bottom layer, either roll out the dough to size between two pieces of plastic wrap — it's an easy enough dough to roll — and lay it in the pan, or put the dough in the pan and press it lightly and evenly across the bottom with your fingertips. Spread the cranberry filling over the dough.

Unwrap the second piece of dough, but leave it on the plastic. Press and/or roll it until it is just the diameter of the pan. Carefully lift the dough and invert it on the filling, lift off the plastic and use your fingers to even it as necessary so that it covers the filling. Brush the top of the cake lightly with water and sprinkle with the remaining 2 teaspoons of sugar.

Bake for 35 to 40 minutes, or until the top of the cake is lightly golden and a thin knife inserted into the center comes out clean. Transfer the pan to a cooling rack and cool for about 20 minutes, then run a blunt knife around the cake, release the sides of the springform pan, and let cool to room temperature.

Once cooled, serve as is, dusted with powdered sugar, or topped with a generous scoop of vanilla ice cream.

print this recipe