this month i'm participating in a fun blogger event — the secret recipe club. each month, every blogger is secretly assigned another blog + chooses one recipe from their site to make. on the day of the reveal (today!), all of our posts go up at the same time, so everyone gets to see who was assigned to their blog, which recipe they chose, + how it turned out. sounds fun, huh?
i was assigned to the blog food babbles, written by the lovely kate, a stay-at-home-mom of two daughters + paramedic who, excitingly, is expecting a new baby, due this week! looking through her site, i saw an amazing-looking chocolate cheesecake + knew instantly that i had found my recipe for secret recipe club. conveniently, my husband's birthday is tomorrow, + even more conveniently, he's a huge chocolate lover, so the timing of making this cheesecake was perfect.
so, how'd it turn out? delicious! the cake is rich + chocolately without being overly heavy – in fact, i was pleasantly surprised that, as far as cheesecakes go, this one was fairly light. the drizzle of chocolate atop the cake adds a nice additional layer of flavor + a bit of texture, + looks, in my opinion, simply gorgeous. my husband + i happily cut into the cake a good two days before his birthday — it was clearly going to be impossible to wait — and both absolutely loved it. big thanks to kate for sharing the fantastic recipe on your blog!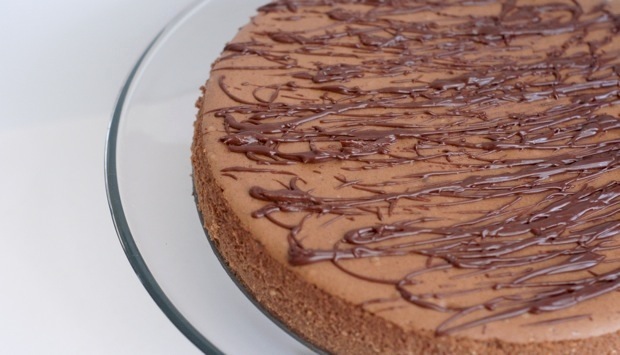 chocolate cheesecake with dark chocolate drizzle

makes 10-12 servings, adapted from nigella lawson, as seen on food babbles

ingredients

for the cheesecake base:
1 1/3 cups graham cracker crumbs
1/2 stick butter
1 tablespoon cocoa

for the cheesecake filling:
6 ounces semisweet chocolate, finely chopped
2 1/2 cups cream cheese, softened
3/4 cup sugar
1 tablespoon cornstarch
3 large eggs
3 large egg yolks
2/3 cup sour cream
1/2 teaspoon cocoa, dissolved in 1 tablespoon hot water

for the dark chocolate drizzle:
3 ounces bittersweet chocolate, finely chopped
1/2 cup heavy cream
1 teaspoon dark corn syrup

special equipment: 9" springform pan

directions

preheat the oven to 350 degrees F.

to make the base, process the graham crackers to make rough crumbs + then add the butter + cocoa. process again until it makes damp, clumping crumbs + pour them into the pan. press the crumbs into the bottom of the pan to make an even base + put into the freezer while you make the filling.

melt the chocolate either in a microwave or double boiler, + set aside to cool slightly.

beat the cream cheese to soften it, then add the sugar + cornstarch, beating again to combine. beat in the whole eggs, then the yolks, then the sour cream. finally add the cocoa dissolved in hot water + melted chocolate + mix to a smooth batter.

take the pan with the crust out of the freezer + line the outside of the tin with a good layer of cling wrap, + then another layer of tin foil over that. this will protect it from the water bath.

sit the springform tin in a roasting pan + pour in the cheesecake filling. fill the roasting pan with just boiled water to come about half way up the cake pan + bake in the oven for 45 minutes – 1 hour. the top of the cheesecake should be set, but the underneath should still have a wobble to it.

peel away the foil + clingwrap + sit the cheesecake in its pan on a cooling rack. put in the refrigerator once it is no longer hot, + leave to set, covered, overnight. let it lose its chill before unspringing the cheesecake to serve.

to make the chocolate sauce: very gently melt the chopped chocolate, cream + corn syrup. when the chocolate has nearly melted, take off the heat + whisk it until smooth. let it cool slightly, + drizzle it over the chocolate cheesecake on its serving plate.

print this recipe