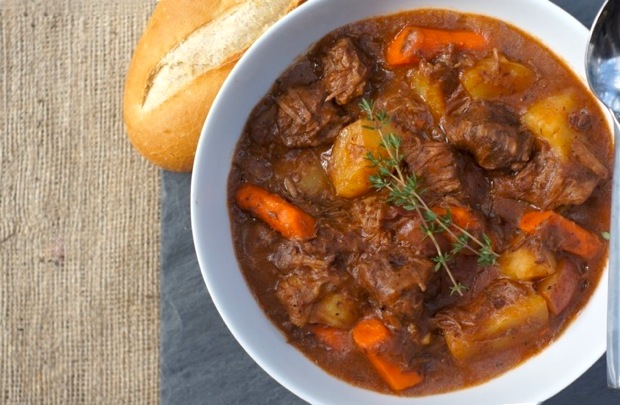 Until recently, I wasn't much of a fan of beef stew. I've eaten it at plenty of potlucks + in restaurants, + as much I wanted to like it, I'd never been all that impressed. However, with the weather getting downright cold this past week, I challenged myself to make a beef stew that would knock my beef-stew-skeptical socks off. I searched for the perfect recipe, eventually running across one, with, oh yeah, two cups of red wine in there. Sounds right up my alley, doesn't it?
I gathered up all the ingredients, + got stewin'. After smelling it cooking for over three hours, I couldn't wait to try it. And after eating it, I have excellent news to share: I have finally met the perfect beef stew!! The wine lends delicious rich notes to the stew, while the yukon gold potatoes, red bliss potatoes, + carrots add delightful flavor + texture. And the meat? Simply divine. It is wonderfully rich, bursting with flavor, + truly fall-apart tender. I served this stew with a fresh baguette + red wine, + it was seriously the perfect cold-weather dinner.
So, whether you're already a big fan of beef stew, or if you're still a skeptic who needs a bit of convincing, you've gotta give this recipe a try. I bet that you will absolutely love it!
Red Wine-Braised Beef Stew

makes 8 servings, adapted from epicurious

ingredients

4 pounds chuck roast, cut into 2" pieces + trummed
1 1/2 teaspoons kosher salt
1 teaspoon freshly ground black pepper
3 tablespoons all-purpose flour
1 tablespoon olive oil
1/4 cup tomato paste
2 cups dry red wine, such as pinot noir or syrah
4 cups low-sodium chicken broth
1 medium yellow onion, quartered
2 bay leaves
4 sprigs thyme
10 medium carrots (about 2 pounds), peeled and cut into 3-inch pieces
3 pounds baby yukon gold and/or baby red bliss potatoes, halved (i used 1.5 lbs of each)

directions

preheat the oven to 325°F.

season the meat with salt + pepper, place in a large bowl, + toss with the flour.
heat the oil in a large dutch oven or wide-bottomed pot with a tight-fitting lid over medium-high heat. cook the meat, in batches, until well browned on all sides, 6-8 minutes, transferring the pieces to a plate as they are browned. pour off + discard any drippings from the pot.

add the tomato paste, wine, broth, onion, bay leaves, thyme, + 2 of the carrots + bring to a boil. return the meat + any juices back to the pot (the meat should be barely submerged in liquid), cover, + transfer to the oven. cook for 2 hours.

using tongs, remove + discard the cooked vegetables. add the potatoes + the remaining 8 carrots to the pot, cover, + return to the oven. cook until the meat + vegetables are fork-tender, about 60-75 minutes more.

print this recipe