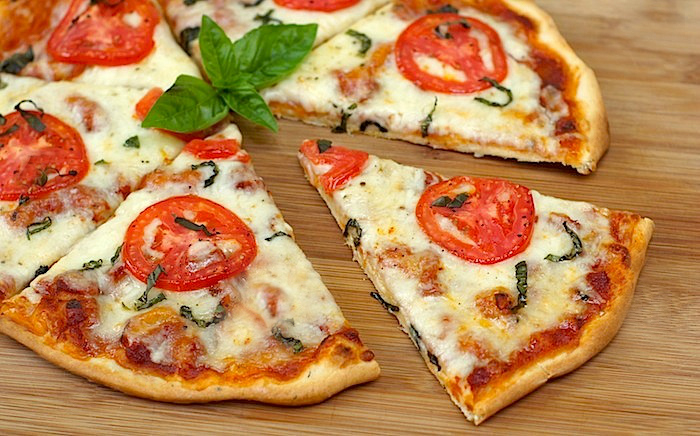 I love pizza. You're probably thinking, 'who doesn't?' but really, I'm pretty sure I love pizza more than the average joe. We eat it at least once a week, sometimes more. Bad day at work? Send the husband out for pizza! Great day at work? Let's celebrate with pizza! Mediocre day at work? Seems like a good time to eat some pizza! You get my drift. =)
While I'll eat any type of pizza you put in front of me, I'm partial to thin crust – the crispier, the better. I've made many different pizza dough recipes in the past, but this one? Is truly amazing. My absolute favorite + THE BEST I've tried. Really! It's so easy to prepare, requires ZERO rising time, + takes less than 10 minutes to bake from start to finish. The result? A light, crisp, flavorful pizza crust that provides the perfect base for whatever toppings fit your fancy.
Note: This recipe makes enough dough for TWO 12″ pizza crusts. Each pizza serves roughly 2 adults as an appetizer, or 1 person as an entree, so if you only need to feed one person, you have two options. 1) Halve the recipe. Easy peasy! Or my preferred option: 2) Use one pizza crust for dinner, put the rest of the dough in a ziploc in the fridge, then use it within the next few days for lunch. I used my first crust to make a pepperoni pizza for dinner, then I used the rest the next day to make a tomato, basil, asiago + mozzarella pizza for my lunch. (For lots more food pictures, you can follow me on instagram.) YUM!
Homemade Thin Crust Pizza

makes TWO 12″ pizzas (serves 2-3 as an entree, 4 as an appetizer), adapted from the kitchn

Ingredients

For the Dough:
3/4 cups (6 ounces) of water
1/2 teaspoon of active-dry yeast (if using instant yeast, you don't need to dissolve it during the first step)
2 cups (10 ounces, by weight) unbleached all-purpose flour
1/2 tsp kosher salt
optional: 1/2 tsp italian seasoning (or any dried herbs of your choice) – i like to work herbs into the dough, but it's wonderful without the herbs, too – your choice!

For the Toppings:
your choice – go wild! here's what it takes two of the pizzas pictured above:
1/2 cup marinara sauce (1/4 cup per pizza), either homemade or store-bought
3 cups of cheese (1.5 cups per pizza) – i used a blend of mozzarella + asiago
1 thinly sliced tomato, about 6 slices on each pizza
12 basil leaves, chopped, divided between the two pizzas

Directions

Making the Dough:
About 30 minutes to 1 hour before baking, preheat the oven to 500 degrees F. If you have a baking stone, put it on a rack in the lower-middle part of the oven before preheating.

In a small bowl or liquid measuring cup, heat the water until it feels barely lukewarm when you test it with your finger (if the water is so hot that you can't leave your finger in it, wait for it to cool down). Add the yeast to the water + use a fork or whisk to stir it into the water. Set this aside for a few minutes + allow the yeast to dissolve. It's okay if the yeast doesn't bubble, but it should be entirely dissolved.

Measure out the flour into a large mixing bowl. Add the salt + dried italian seasoning/herbs (if using) + use your hand or a whisk to combine.

Make a well in the center of the flour + pour in the water-yeast mixture. Use your fingers or a wooden spoon to combine everything together.

When it comes together into a cohesive ball, turn it out onto the counter along with any extra flour in the bowl that hasn't yet gotten worked in.

Knead the dough until all the flour is incorporated + the dough is smooth/elastic to the touch–about five minutes. The dough should still feel moist +  just slightly tacky. If it's sticking to your hands + counter-top like bubble gum, work in more flour one tablespoon at a time until it's smooth + silky.

Divide the dough in two.

Shaping the dough:
Tear off two pieces of parchment paper roughly 12-inches wide. Work one piece of the dough in your hands + form it into a large disk. Lay the disk of dough on the parchment paper.

Working from the middle of the dough outwards, use the heel of your hand to gently press the dough outward until it's about 1/4 of an inch thick or less. You can also use a rolling pin for this part. You can make free-form pies, or if you'd like a circular pie, you can trace a large circle on the back of the parchment to use as a guide.
Repeat with the second piece of dough.

Note: The dough will stick to the parchment paper, making it easier for you to roll out. You'll bake the pizza right on the parchment paper. As it cooks, the dough will release from the parchment, + you can slide the paper out before serving.

Topping + Baking the Dough:
Spoon ONLY the sauce into the center of each pizza + use the back of a spoon to spread it out to the edges.

Using a bread peel or the backside of a baking sheet, slide your pizza (still on the parchment) onto the baking stone in the oven. If you don't have a baking stone, just bake it right on the baking sheet.

Bake for about 5 minutes, then rotate the pizza 180-degrees (most ovens have 'hot spots' + your pizza will bake unevenly if it's not rotated). Bake for another 3 minutes, then sprinkle the cheese + any other toppings over the top. Bake for another 2-3 minutes until the edges are golden brown and crispy. If you like your cheese browned slightly, broil for a minute or so.

Remove your pizza from oven + let it cool on a wire rack. At this point, you can slide the parchment paper out from under the pizza. Repeat with second pizza.

Let both pizzas cool for about five minutes + serve.

print this recipe