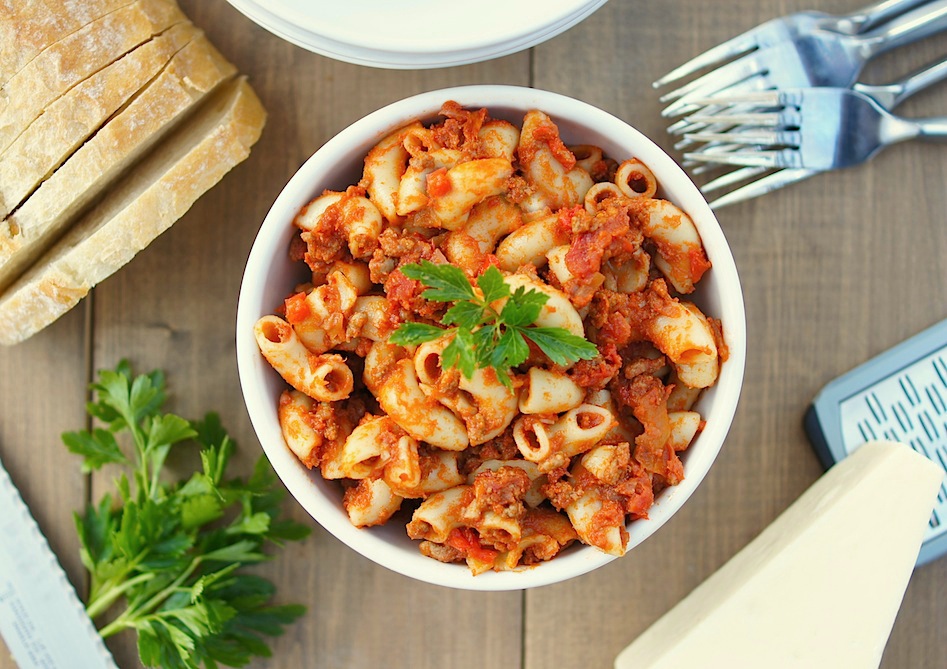 First, if you're thinking, "what the heck is American Chop Suey?!," allow me to explain. While this simple comfort food dish is popular throughout the United States, it goes by different names in different regions. Growing up in New England, we called it American Chop Suey. But as I learned from my facebook followers, in other regions it's called American Goulash (or just Goulash), Chili Mac, or Hamburger Mac, to name a few.
So, what is it? Basically, it's ground beef, onions, + peppers, sauteed with spices, tossed with macaroni + a slow-simmered tomato sauce. It was, hands-down, my favorite comfort food growing up + even though I haven't eaten it since I was a teen, I found myself seriously craving it recently. So, I hunted down a recipe for a slightly-fancied-up version, + got cookin'.
Sweet heavens, it is SO delicious – everything I remembered from my childhood, but even better! From the slightly sweet, slow-simmered pasta sauce to the wonderfully-tender spiced beef, onions + peppers, all tossed with a generous portion of pasta, it is pure comfort food. It was so amazing that after taking my first bite, I broke into a happy dance of victory (and my husband can vouch for that.) Whether you call it American Chop Suey, Goulash, or Chili Mac, I know that you'll be calling it your new favorite meal!
American Chop Suey

serves 6-8, adapted from FromAway.com

Ingredients

3 tablespoons olive oil
1 medium yellow onion, finely chopped
1 green pepper, seeded + finely chopped
1 lb 80/20 ground beef
3 teaspoons garlic powder
3 teaspoons onion powder
2 teaspoons paprika
1/4 teaspoon crushed red pepper flakes (this adds a tiny bit of heat – omit if you want a spicy-free dish)
1 28-ounce can whole peeled tomatoes
2 15-ounce cans tomato sauce
2 tablespoons tomato paste
1 teaspoon sugar
1/4 teaspoon ground cinnamon
1 lb large elbow macaroni – i used creamette large elbow macaroni
salt + pepper, to taste
optional: grated parmesan cheese + freshly-chopped parsley, to garnish

Directions

Heat olive oil in a large pot over medium-high heat. Add onion + green pepper, + cook until softened, about 8 minutes. Add ground beef, garlic powder, onion powder, paprika, + red pepper flakes. cook, stirring occasionally, until meat is no longer pink, about 8 minutes.

Add in whole tomatoes (and juice), crushing the tomatoes with your hands as you add them. (wear an apron!) Add tomato sauce, tomato paste, sugar, + cinnamon, + salt/pepper to taste – stir well. Bring to a boil, then reduce heat, + simmer, uncovered, stirring occasionally, until sauce thickens, about an hour.

When the sauce is in its final minutes of simmering, cook pasta according to package directions, reducing the cooking time by two minutes (until just barely short of al dente). Drain pasta well + transfer to pot of sauce, stirring to combine well. Add more salt + pepper to taste (if needed), + cook until flavors combine, about 10 more minutes.

Serve hot with grated Parmesan cheese + garnish of parsley, + hot, buttered bread.

print this recipe