Today, I'm participating in a fun blogger event — the Secret Recipe Club. How does it work? Every blogger is secretly assigned another blog + chooses a recipe from that blog to make. On reveal day (today!), all of our posts go up at the same time, + everyone gets to see who was assigned to their blog, which recipe they chose, + how it turned out. Fun, huh?
I was assigned Natural Noshing, a fantastic blog full of tons of amazing-looking recipes. (Seriously, I bookmarked 9 recipes to try!) I decided to make Nora's Five-Minute Strawberry Cheesecake Mousse, because it looked scrumptious, I had all the ingredients on hand, and it sounded like something that Fearless Baby would love. So, during Baby's naptime, I quickly put it together, and sampled a bowl. It was excellent – light, wonderfully refreshing, and delightfully creamy. I loved the flavor of the chocolate shavings with the creamy mousse, so I decided to take it one step further and make a delicious parfait by layering it with chocolate pudding. Mmm. As I suspected, Fearless Baby loved it! And since it's full of healthy stuff, I felt good about her eating it, too. And for those with dietary restrictions, it's gluten-free, grain-free, + vegetarian as well. Whoop!
Thank you to Nora for introducing me to this AMAZING mousse + to the Secret Recipe Club for connecting me, yet again, with fantastic bloggers + amazing recipes! For all my previous Secret Recipe Club recipes, click here – there are TONS of awesome ones!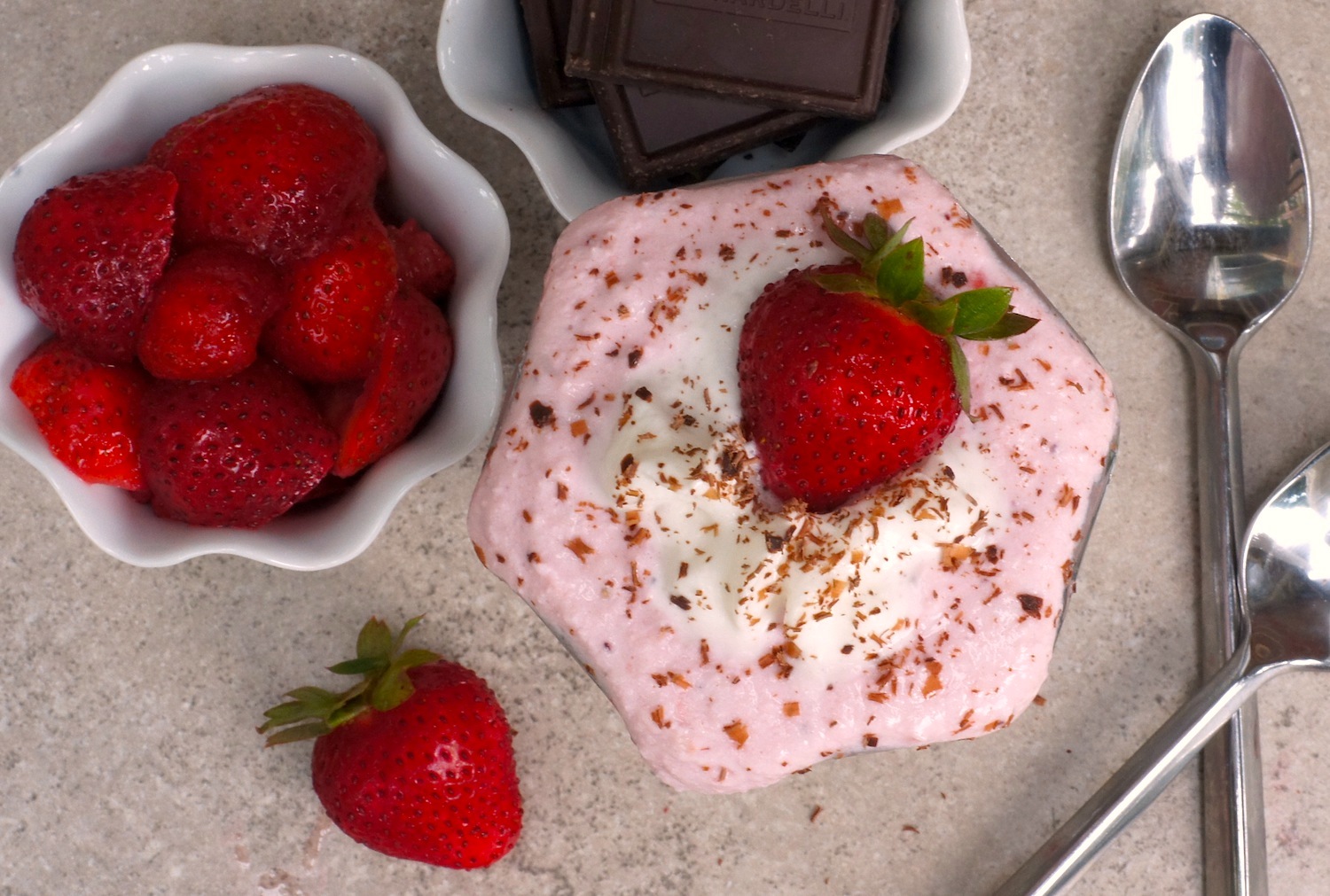 Five-Minute Strawberry Cheesecake Mousse

serves 1-2, adapted from Natural Noshing

Ingredients

3/4 cup cottage cheese
1/4 cup fresh strawberries, coarsely chopped
1/4 tsp pure vanilla extract
1 tsp honey or agave nectar OR 1 packet of stevia
1/2 oz dark chocolate, for shaving

Directions

Add all ingredients to the bowl of a small food processor or high-powered blender. Process or blend until smooth, about 60-90 seconds. Garnish with shaved dark chocolate (if desired) and serve immediately.

print this recipe