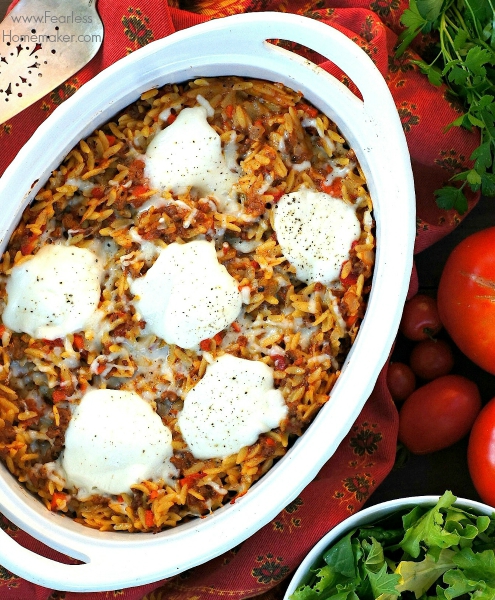 We like variety in our family dinners. Even if we love a particular recipe, I typically don't make it again for at least another few weeks, just to keep things interesting. So, when I tell you that I made this recipe for the first time one day, and made it again for dinner a mere eight days later, it means we all thought it was amazing. This casserole is my idea of perfect comfort food – it has pasta, tender beef, lots of melty cheese, bright tomatoes, and a smattering of tasty vegetables and herbs.
This is the type of dish that I appreciate because it's (of course) delicious hot-and-bubbly fresh out of the oven, but it's also wonderful as a leftovers lunch, popped in the microwave for a minute or two. Since I work from home, I almost always eat lunch here, so having a scrumptious, homemade, easily-reheatable meal in the fridge is a major plus. Another great thing about this meal is that it was a huge hit with both the adults AND the kiddos. While I had a pretty good sense that I was going to enjoy this, I was unsure as to whether my daughter would eat it, as ground beef is not her favorite food. Much to my surprise, she LOVED it, and asked for a second helping both times I made it.
While I completely approve of this casserole as-is, as I was making it the second time, I thought that the orzo/beef/vegetable mixture (pictured below) would be wonderful stuffed into bell peppers, rather than baked into a big casserole. I think I'll mix it up next time and try it that way!
Cheesy Orzo, Beef, + Tomato Casserole

serves 4-6, adapted from The Novice Chef

Ingredients

2 tablespoons olive oil
1 large onion, finely chopped
3 cloves garlic, minced
2 celery stalks, finely chopped
2 carrots, peeled + finely chopped
1 lb ground beef
1 (14.5 oz) can petite diced italian-seasoned tomatoes
1 (8 oz.) can tomato sauce
2 teaspoons dried oregano (or dried italian seasoning)
2 tablespoons tomato paste
1/2 cup chicken broth
pinch of cayenne pepper
8 oz orzo pasta
1 1/2 cups shredded mozzarella cheese, divided
kosher salt and freshly ground black pepper, to taste
cayenne pepper, to taste
8 oz. fresh mozzarella, sliced into 1/4 – 1/2″ rounds, to top the casserole

Directions

Preheat oven to 350°F. Grease a 9×13 casserole dish, set aside.

Cook the orzo until just al dente, according to package directions. (For me, this took about 7 minutes). Drain, and set aside.

Meanwhile, in a large skillet, heat the olive oil over medium heat. Add the onion, garlic, celery, and carrot, and sauté for 5-7 minutes, until vegetables are starting to soften. Add the ground beef and cook, breaking up with a spoon, until no pink remains, about 8-10 minutes.

Drain off any fat, then add the diced tomatoes, tomato sauce, oregano, tomato paste, chicken broth, cayenne, + cooked orzo. Simmer until the juices start to thicken, about 5 minutes. Remove from heat, and stir in 1 cup of shredded mozzarella. Add salt + pepper to taste.

Transfer the mixture to the prepared casserole dish, and bake for 25 minutes, uncovered. In the last 5 minutes of cooking, top with the remaining 1/2 cup shredded mozzarella, and sliced fresh mozzarella.

Remove from the oven, and let sit for about 5 minutes before serving.

print this recipe