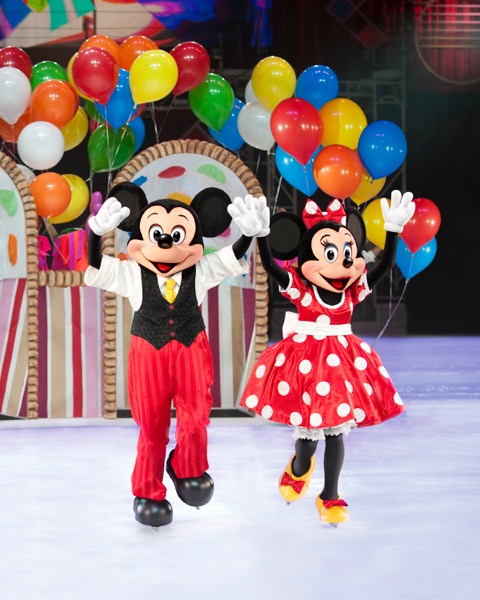 Disney On Ice presents Let's Celebrate! is skating in Nashville's Bridgestone Arena October 1-4, 2015, and one lucky reader will win 4 ticket vouchers to redeem for the Nashville performance date/time of their choosing. Read on for more information, and use the Rafflecopter form below to enter the giveaway. Good luck!
We will be taking our 2-year-old daughter to one of the performances, and I am so excited to see how it goes. This is going to be her first time seeing anything on ice and her first time experiencing any Disney performance, and I have a feeling that she (and we) are going to love it. Look back here in early October for a full review of our experience at Disney On Ice in Nashville!
Note: This giveaway is for ticket vouchers that must be taken in person to the Bridgestone Arena Box Office to exchange for actual tickets. For the best possible seats, the giveaway winner should exchange the vouchers for tickets as soon as possible after receiving them. Additional adjacent seats may be purchased at full price, if needed, when the vouchers are exchanged for tickets. Also note that this giveaway is for the Nashville shows only.
Nashville / Bridgestone Arena performance dates/times:
Oct. 1 (Thursday) – 7 PM
Oct. 2 (Friday) – 10:30 AM, 7 PM
Oct. 3 (Saturday) – 10:30 AM, 2:30 PM, 6:30 PM
Oct. 4 (Sunday) – 1 PM, 5 PM
It's one colossal party on ice, with all your favorite Disney friends at Disney On Ice presents Let's Celebrate! Presented by YoKids Organic Yogurt. Join Mickey Mouse, Minnie Mouse, Donald and Goofy as they celebrate a Very Merry Unbirthday Party with Alice and the Mad Hatter; a Royal Valentine's Day Ball with your favorite Disney Princesses, including Cinderella, Ariel, Belle and Tiana; a Hawaiian luau with Lilo & Stitch; a whole new world with Jasmine and Aladdin; a winter wonderland with Woody, Jessie and Buzz Lightyear; a Halloween haunt with the Disney villains and more in a magical medley of holidays, celebrations and festivities from around the globe. Come join the celebration!
This giveaway ends on Saturday, September 12, 2015 at 11 PM CST. 1 winner will be selected randomly, emailed + has 48 hours to respond, so please use a valid email address on the giveaway widget. If there is no response after 48 hours, another winner will be selected. Contest is open to anyone who can be in Nashville on October 1, 2, 3, or 4 for the event. Disney On Ice tickets were provided to my family, but no additional monetary compensation was received for this post.