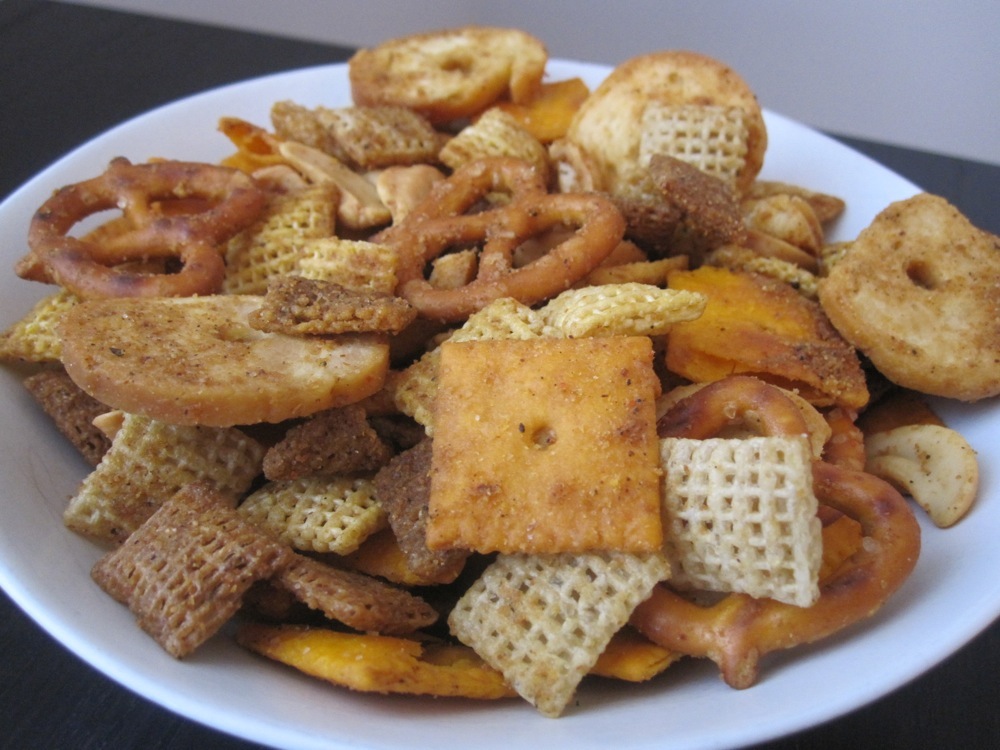 you may have learned by now that the way to win my heart is with a big dash of spicyness. for me, the spicier, the better … really. i don't know how i developed this insane spicy tooth, but i am constantly adding cayenne pepper, crushed red pepper + sririacha sauce to everything + anything.
we had over 14 hours of driving to do during our thanksgiving travels + i find that long drives are made infinitely better with delicious snacks, kickin' music, + of course, good company. with two of the three already take care of, i decided to make some car snacks for us + started with chex mix with an amy twist – that is, with some interesting dimension in flavor, + a bit of heat.
a important note: 1 teaspoon of hot sauce + a 1/4 teaspoon of cayenne will make this what i'd call medium-to-medium/low hot, but what you might find to be a bit too hot. i recommend tasting your seasoning mix with less hot sauce/cayenne to start, then increasing the amounts until you reach your preferred heat level. if you like spicy things, though, these amounts (or more) will probably be perfect for you. enjoy!
spicy cajun chex mix

makes about 14 cups of mix

ingredients

1 cup butter, melted
2 tablespoons cajun seasoning
4 teaspoons garlic powder
1/4 teaspoon chipotle chile powder
4 tablespoons worcestershire sauce
1 teaspoon hot sauce
1/8 teaspoon of pepper
2 cups rice chex
2 cups wheat chex
2 cups corn chex
2 cups mini garlic bagel chips
2 cups cashews
2 cups mini pretzels
2 cups cheez-its

directions

preheat over to 250 degrees.

whisk the first seven ingredients together in a small bowl. combine the rest of the ingredients in a large bowl until blended. mix the seasoning mixture in with the dry ingredients + toss until well combined.

spread the chex mix out on two baking sheets. bake for an hour, stirring every 15 minutes. remove from oven + allow to cool completely on aluminum foil. stir in an airtight container.

print this recipe