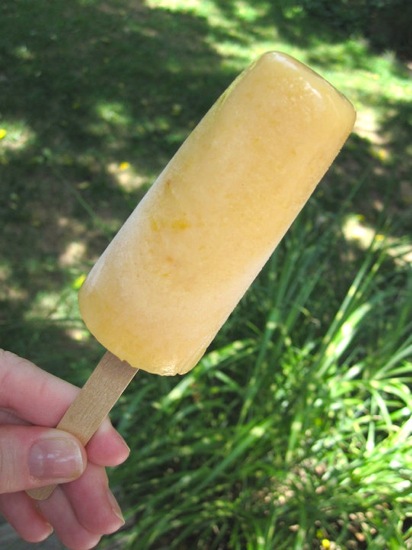 is there anything more glorious than a freshly picked peach? peaches are my favorite fruit + the fact that we can pick local, fresh peaches in tennessee? well, it rocks. my orchard of choice is pratt's orchard, where we can load up on some of my favorite peaches – red havens + glo havens. while peach picking in fun, the real fun starts when you get home with pounds of peaches, + start experimenting with new recipes.
one of the best peach-centered recipes i've made are these peach + amaretto popsicles. while they taste surprisingly complex, they are incredibly simple to make (+ absolutely gorgeous with their peachy color). one thing to note is that they take a bit longer to freeze than regular popsicles due to the alcohol in them, so you'll need to prepare them a solid 24 hours ahead of time. these are perfect for a summer party or cookout + they keep surprisingly well (+ look great) kept in a small bucket of ice. so if you're looking for a new peach-centered dessert now that peaches are coming into season, definitely give this one a try!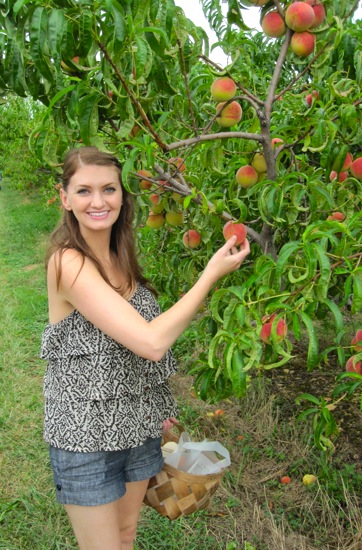 yup, that's me, picking peaches!
fresh peach + amaretto popsicles

makes 12 popsicles, adapted from gourmet

ingredients

3-4 ripe peaches (about 1 lb), pitted, skins removed, chopped
3/4 cup greek yogurt (5 ounces)
1/2 cup granulated sugar
1 teaspoon fresh lemon juice
1/3 cup water
3 tablespoons amaretto
1/8 teaspoon kosher salt

directions

put all ingredients in a blender + puree until smooth. pour into popsicle molds. freeze for 45 minutes, then insert sticks.

freeze until firm, about 24 hours.

print this recipe