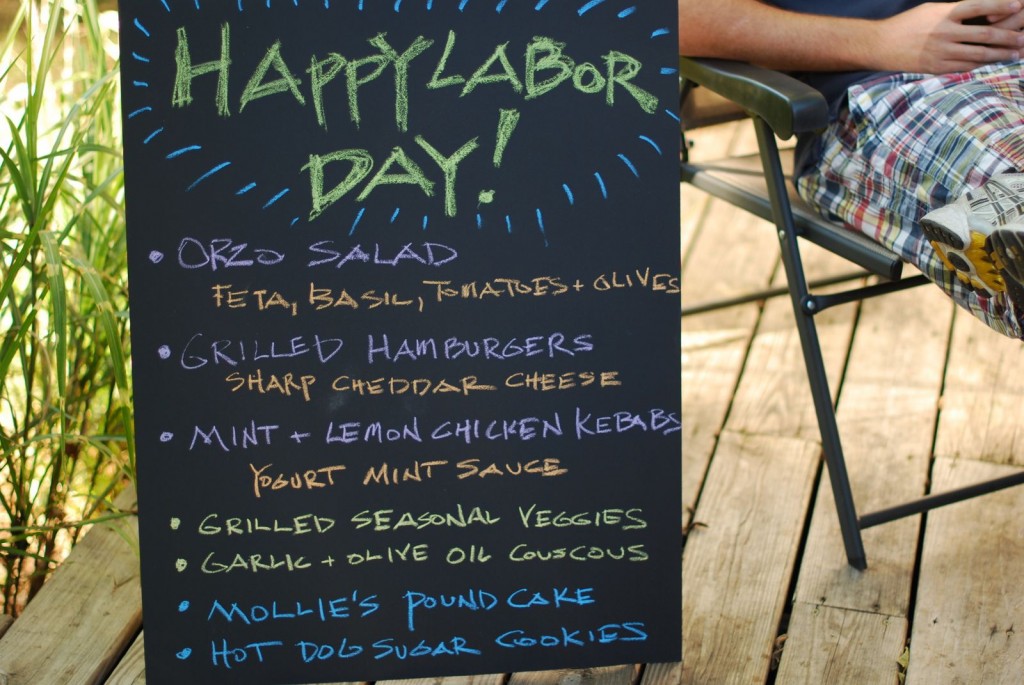 happy labor day weekend! i hope for all of you, it entails gorgeous weather, delicious food + a party or two. last year, we hosted a labor day party, which is when the above picture was taken. for details on last year's party, as well as a fabulous tutorial on how to make chalkboard menus like the one i made above (still one of my favorite crafts!), click here.
this year, we're skipping the hosting duties + simply going to be guests. i get to cook + bake, which i love, without having to prep the house for guests? win! i'm working out what to bring + a serious contender are the adorable hot dog sugar cookies i made last year. grillin' is often associated with labor day parties, so why not put a fun spin on it + make hot dog-shaped cookies? as the party host, i was short on time last year, so my cookies only got garnished with yellow frosting 'mustard.' with a little more time, you could also garnish some with red frosting 'ketchup' + green-tinted coconut 'relish.' how fun is that?
have a wonderful weekend + i can't wait to hear about all the amazing things you grill, cook, + bake!
hot dog sugar cookies

makes about 2 dozen cookies, adapted from the garden of yum

ingredients

3/4 cup butter, softened
1/4 cup granulated sugar
1/4 cup brown sugar
1 egg yolk
1 3/4 cups flour
3/4 teaspoon baking powder
1/8 teaspoon salt
1 can of white frosting or homemade butter cream frosting for 'ketchup' + 'mustard' garnishes
flaked sweetened coconut, chopped finely, for 'relish' garnish
red, yellow + green food coloring
sesame seeds for garnish

directions

note: allow plenty of time to prepare these because the dough needs to chill for four hours

combine butter, sugar, brown sugar, + egg yolk in a mixing bowl. in a separate bowl, mix together flour, baking powder, + salt. add the dry ingredients to the wet ingredients + mix well. cover and refrigerate for four hours.

when dough is ready, preheat oven to 350 degrees. remove 1/3 of the dough from bowl. place remaining dough back in refrigerator. place the 1/3 of the dough in a mixing bowl + mix together with about 40 drops of red + 5 drops of green food coloring until it is the color of a hot dog (reddish brown). lay a sheet of wax paper to work on. take 1" pieces from the dough + roll into thin logs about 2" long, shaping them to look like hot dogs, rounding the edges. set aside.

lay a second piece of wax paper down to work with the white dough. take remaining dough + separate it into the same amount of pieces as you have hot dogs. if you've made 24 hot dogs; separated the dough into 24 pieces. roll the white pieces into thick logs, slightly bigger than you made the hot dogs, about 2 1/2". make an indentation in the center of each one + shape to look like hot dog buns. press sesame seeds into the sides of the buns.

place the hot dogs in the buns, + place on a parchment-covered baking sheet. place in the freezer for 20 minutes, then bake for 17-20 minutes, until the edges are light golden brown. repeat until all hot dog cookies are baked.

allow cookies to cool. once cooled, to decorate, tint some frosting yellow + some red for mustard + ketchup. tint some coconut green for relish. decorate each hot dog cookie as you prefer.

print this recipe
thanks to my friend mollie + my husband for taking these pictures, since i was so distracted by hosting the party that i didn't even think to pick up a camera!