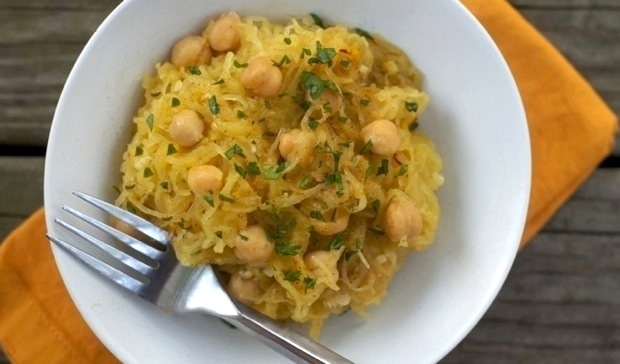 now that it's fall, i've been hearing lots about different fall + winter squash, + one that keeps getting mentioned is spaghetti squash. until yesterday, i had never encountered spaghetti squash, but i was intrigued, so i decided to see what others thought of it. a quick twitter poll revealed that most found it to have a great flavor + texture, + thought that it made for a tasty, healthy pasta alternative.
so, i picked one up + got to cooking. how was it, you ask? truly delicious! i could certainly tell it wasn't pasta, but the noodle-like texture still had a comfort food feeling. the moroccan-spiced butter is simply amazing – so complex + savory. i had no problem finishing one serving of this dish. then another. then (really) one more. while i wouldn't turn to spaghetti squash to curb a pasta craving (i'd opt for pasta instead), it's so great (especially in this preparation) that i'll definitely be using it for both side dishes + entrees in the future.
note: the original recipe simply called for the squash with the moroccan butter, but i amped it up (see below) with chickpeas + a few extra spices. the version below makes a great side dish or light entree. to make it heartier, you can add pulled chicken (or tofu, for vegetarians) to it.
if you haven't tried spaghetti squash, do! for this veggie lover AND pasta lover, it totally hit the spot.
moroccan-spiced spaghetti squash with chickpeas

serves 4, adapted from smitten kitchen

ingredients

1 (3 1/2- to 4-pound) spaghetti squash
6 tablespoons unsalted butter, cut into pieces
3 garlic cloves, minced
1 teaspoon ground cumin
1/2 teaspoon turmeric
1/2 teaspoon paprika
1/4 teaspoon ground cinnamon
1/8 teaspoon saffron threads, crumbled
1/8 teaspoon cayenne
1 teaspoon salt
2 tablespoons chopped fresh flat-leaf parsley
1 can (15 1/2 ounces) chickpeas / garbanzo beans, rinsed + drained

directions

to roast the squash, there are two methods: if you'd like to roast the squash whole, pierce it all over with a small sharp knife to prevent bursting and bake it in a 375°F oven for one hour. If you are good with a big, sharp kinfe, you can save some time by cutting the squash in half lengthwise, scooping out the seeds and roasting the halves face-down in an oiled baking pan for about 40 minutes in a 375°F oven.

meanwhile, melt the butter in a small saucepan over medium heat. add the garlic + chickpeas, + cook, stirring, until the garlic is barely golden. stir in spices + salt, cook for 2 more minutes, then remove from heat.

if you roasted your squash whole, carefully halve it lengthwise (it will give off a lot of steam). remove + discard seeds. working over a bowl, scrape squash flesh with a fork, loosening + separating strands as you remove it from skin. toss with the spiced butter, chickpeas, + garnish with fresh parsley.

print this recipe