in my opinion, there are few things more delicious than fresh, local strawberries. if you've only had store-bought strawberries, you must try some berries from your local farmer's market – they have so much more flavor + sweetness than their store-bought cousins. they're amazing just on their own, or baked into all sorts of goodies, like donuts, pies, or my new favorite, these amazing scones.
this was my first time making scones, so i was a little unsure how they'd come out. thankfully, they turned out absolutely amazing! they have a perfect texture – a crunchy, sugary outside, with a soft, fluffy berry-studded inside. while the strawberries + sugar topping add some lovely sweetness, these scones are not too sweet at all – a must for me for breakfast treats.
awesomely, these scones are freezer-friendly. after making the dough + slicing them into wedges, you can freeze the individual un-baked scones (pictured below), then just bake one straight from the freezer whenever you're craving a wonderful treat. how fabulous is that? or, feel free to make all eight at once. just don't blame me when you eat them all in one day – they're truly just that good!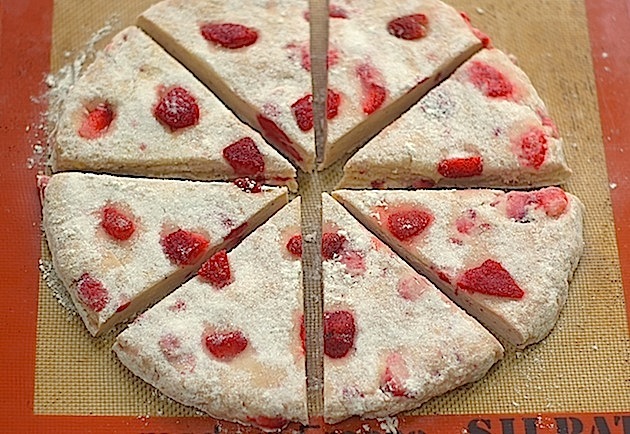 strawberry scones

makes 8 scones, adapted from annie's eats + confections of a foodie bride

ingredients

1 large egg
1/4 cup plain or vanilla yogurt
1/2 cup milk
1 1/2 tsp lemon zest
1/2 tsp vanilla extract
2 1/2 cups all-purpose flour
1/4 cup granulated sugar, plus more for sprinkling
1 tbsp. baking powder
1/2 tsp. salt
8 tbsp. (i stick) cold unsalted butter, cut into small pieces
1 1/2 cups chopped fresh strawberries, frozen for at least 30 minutes

directions

in a small bowl, whisk together the egg, yogurt, milk, vanilla extract + lemon zest until blended; set aside.

in the bowl of a stand mixer fitted with the paddle attachment, combine the flour, sugar, baking powder, + salt + mix on low speed until blended. with the mixer still running, add the butter pieces to the flour mixture, + mix until the largest butter pieces are the size of small peas + the mixture is crumbly. (if you don't have a food processor, you can just mix up the dry ingredients in a mixing bowl + cut in the butter using a pastry blender or two knives or forks.)

add the frozen strawberries + milk/egg/yogurt mixture to the flour mixture + mix on a low speed until dough has formed – it will be sticky + thick.

transfer the dough to a well-floured work surface + pat into a round disc about 7-8″ in diameter, 1″ thick. sprinkle the top generously with additional granulated white sugar. slice the disc into 8 wedges.

to bake the scones, preheat the oven to 400˚F. line a baking sheet with a silicone baking mat or parchment paper. place the shaped scone wedges on the prepared baking sheet + bake until lightly browned on top, about 15 minutes. let cool a few minutes before serving.

you can also freeze the unbaked scones to bake at a later time. to freeze, transfer the baking sheet with the shaped scones to the freezer + let them chill until they are firm, 30-60 minutes. wrap the scones individually + store in a freezer-safe bag until ready to bake. bake as originally indicated, adding a few minutes to the baking time (usually about 18-20 minutes.)

print this recipe