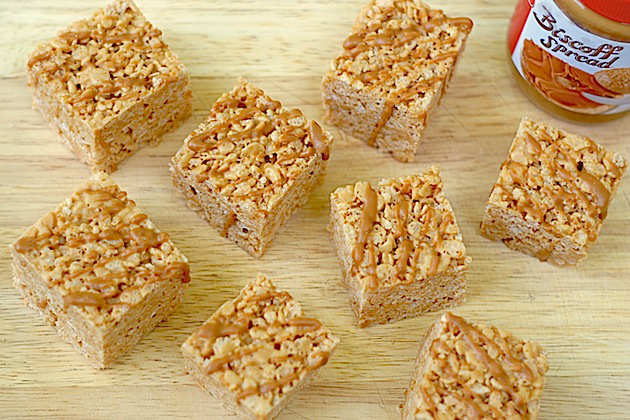 so, have you all tried the wondrousness that is biscoff spread yet? essentially, it's a jar of delicious tastes-like-cookies goodness in spreadable, creamy form. it's amazingly tasty + frankly, highly addictive. it's delicious spread on toast, bagels, apple slices, or celery, or worked into baked goods like cookies, cakes or cupcakes. have i made you hungry yet? =)
the grocery store recently had biscoff spread on sale (win!), so i stocked up. after eating a lot of it straight out of the jar with a spoon (come on, we've all done it), i decided to try something different. i noticed i had leftover rice krispies from making homemade granola bars + decided to make rice krispie treats! and the result? scrumptious. the biscoff adds lovely cookie notes without overpowering the treats while the extra biscoff drizzled on top adds some extra sweetness + flavor that is just wonderful. that fact that they're super easy + quick to make = always a bonus!
if you're looking for a simple sweet that can still wow a crowd, look no further than these tasty treats!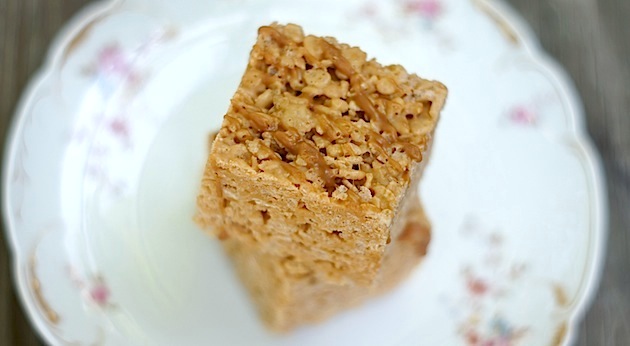 biscoff rice krispie treats

makes 12 treats, adapted from shugary sweets

ingredients

1/4 cup unsalted butter
10 oz marshmallows
1/2 cup biscoff spread
5 1/2 cup rice krispies cereal
optional: an addition 1/4 cup biscoff spread for drizzling/decorating the treats

instructions

in large pot, melt butter over medium-low heat. once completely melted, add in marshmallows + the 1/2 cup biscoff spread. mix continuously until marshmallow is smooth and creamy. quickly fold in cereal + mix until blend.

pour in a buttered 8×8 pan (for thicker treats) or 13×9 pan (for thinner treats). cover. allow to set, about 2 hours. cut into squares. in small microwave bowl, melt 1/4 cup biscoff for about 30 seconds. drizzle over treats + allow to harden (about 30 minutes).

print this recipe