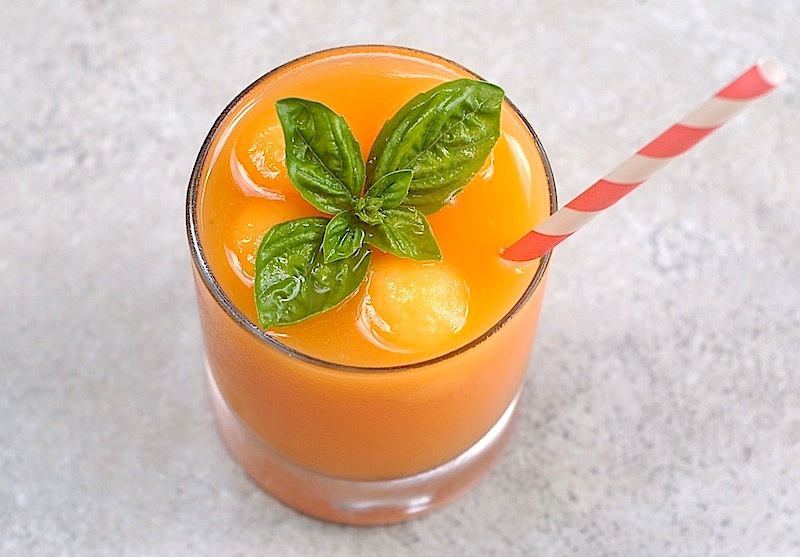 in the warm weather, i'm all about fresh fruits + veggies. the other day, during a quick trip to the grocery store, the fresh melons were calling to me. the cantaloupe looked especially inviting, so i got one, hoping i'd find something interesting to do with it. sure enough, when i started looking up recipes, there were tons of awesome dishes + drinks, like this cantaloupe-basil agua fresca.
this drink is absolutely perfect for this hot summer weather! it's cool, crisp + refreshing, + perfectly balanced. the sweet cantaloupe pairs wonderfully with the aromatic, slightly peppery basil. and while this is great just as it is, it would be fantastic made into a cocktail, using either vodka or rum.
and, an awesome trick i learned when i made watermelon-basil margaritas? when you make a delicious drink, the last thing you want is for it to get watered down due to melting ice cubes. that recipe called for using frozen watermelon cubes instead of ice cubes, + i used the same technique here. i popped a couple of cantaloupe balls in the freezer for a few hours. + voila! a pretty, effective alternative to ice cubes that'll cool your drink without watering it down. pretty fab, right?
cantaloupe-basil agua fresca

makes 4 servings, adapted from bon appetit

ingredients

7 cups chopped fresh cantaloupe (from one 3.5 pound melon)
1/3 cup fresh lemon juice
1/3 cup loosely packed fresh basil leaves

directions

working in batches, purée cantaloupe in a blender until smooth.

set a fine-mesh sieve over a large bowl or pitcher; strain purée into bowl or pitcher (you should have about 2.5 cups juice).

add lemon juice, basil, + 1 cup cold water to the pitcher. let steep at room temperature for 1–2 hours. fill four glasses with ice + divide agua fresca among glasses.

nutritional information per serving, as provided by bon appetit:
servings per recipe: 4 • calories: 110 • fat: .5 g • protein: 3 g
carb: 27 g • fiber: 3 g • sodium: 50 mg • sugar: 23 g

print this recipe