let me tell you a story about the power of social media. recently, i posted this question on twitter:
i received tons of responses, + almost everyone said that they loved their crock-pot, so i decided it was time to buy one. then? one of my twitter friends (who's also a real-life friend) told me he had an extra crock-pot that i was welcome to have. a few days later, we met up – he gave me an awesome crock-pot + i made homemade Rolo-stuffed chocolate chip cookies for his daughter. everyone wins!
since receiving the crock-pot 10 days ago, i've already used it three times, + have honestly LOVED each meal made with it! thus far, i've made indian chicken tikka masala, this mexican chicken, + beef stroganoff. for real, everything has been delicious – i'm so thrilled that i finally have a crock-pot! i posted pictures of all three meals on facebook + instagram, + while all got a great response, i thought this one received the most requests for the recipe ASAP. ask + you shall receive, friends!
of the three crock-pot recipes i've made so far, this one is the easiest, as it requires no pre-searing of the meat. you simply measure out some spices, cut up chicken breasts + pop it in the crock-pot along with black beans, corn, salsa + chiles. then, let the crock-pot do the work. the result? a fall-apart tender, juicy, + flavorful chicken with just a hint of spiciness. while there are tons of ways you could serve this, i used flour tortillas to make soft chicken tacos + served it with cilantro-lime rice, chips + salsa, which truly was a perfect meal. i can't wait for y'all to try this recipe – i think you'll love it!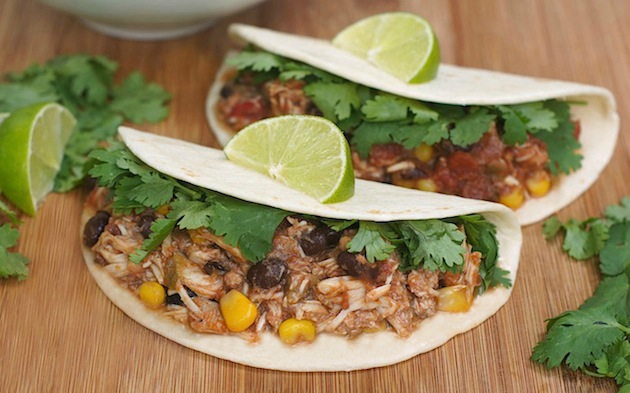 slow cooker mexican chicken

serves 6-8, adapted from skinny mom

ingredients

4 chicken breasts, cubed
1 tsp chili powder
1 tsp garlic powder
1/2 tsp cayenne pepper
1 tsp onion powder
1 tsp cumin
1 16 oz jar salsa (i used a medium-spicy one)
1 14 oz jar diced tomatoes with green chiles
1 4 oz can chopped green chiles, drained
1 15 oz can black bans, rinsed + drained
1 8 oz bag frozen corn (about 1 1/2 cups)
1 jalapeño pepper, stem removed, pierced several times with a fork
1/4 cup chopped fresh cilantro
salt + pepper to taste

directions

in a large bowl, toss cubed chicken with garlic powder, onion powder, cumin, cayenne pepper, chili powder, 1/2 teaspoon black pepper + 1/2 teaspoon salt until well-coated. allow to sit for 10 minutes or so, while you prepare the rest of the ingredients.

combine salsa, beans, corn, tomatoes with green chiles, chopped green chiles, cilantro, + jalapeno in the crock pot – stir to combine well. add the seasoned chicken breast cubes to the crockpot, stir to combine.

cook on low for 4-5 hours (check for the chicken's doneness after 4 hours), then serve with rice and/or tortillas. discard jalapeño before putting leftovers in the refrigerator, as jalapeños can continue to release heat/spiciness into the leftovers over the next few days.

print this recipe