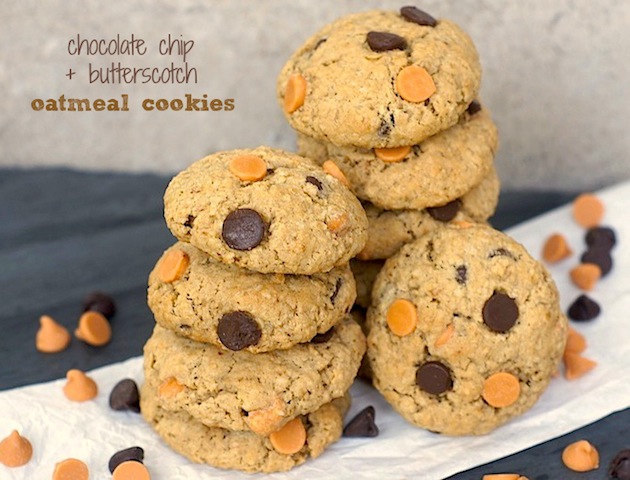 today, i'm participating in a fun blogger event — the secret recipe club. how does it work? every blogger is secretly assigned another blog + chooses a recipe from that blog to make. on reveal day (today!), all of our posts go up at the same time, + everyone gets to see who was assigned to their blog, which recipe they chose, + how it turned out. fun, huh?
this month, i was assigned K&K Test Kitchen, an adorable blog written by mother-daughter team kim + kelsey. i was so excited, as i had seen their blog in the past + loved it – it's full of wonderful recipes, beautiful food photography + charming anecdotes. i literally looked through every single post (yep, 2+ years worth) while deciding what to make – their blog is addictive! in the end, i opted for these butterscotch oatmeal cookies, as i absolutely love oatmeal cookies. i decided to add chocolate chips as well, because adding chocolate to any recipe is almost always a good thing, right?
so, how were they? delicious, especially when they're still warm from the oven + full of melty chocolate + butterscotch. even once fully cooled, they remain delightfully soft. some oatmeal cookies can be too dense, crisp or dry, but not these! the combo of the hearty oats, sweet butterscotch, rich chocolate + earthy cinnamon is just perfect. and if you really want to treat yourself? they'd be fab crumbled on top of a big scoop of salted caramel or dulce de leche ice cream. just a suggestion. =)
thank you to kelsey + kim for introducing me to this fabulous dish, + to the secret recipe club for connecting me with fantastic bloggers + amazing recipes!
my previous secret recipe club posts:
lemon orzo with sautéed zucchini + tomatoes
creamy fettuccine with corn + arugula
lime + raspberry squares with pistachio-graham crust
garlic, cheddar + parmesan rolls
peppermint patty-filled brownie cupcakes
sugar cookie bars
chocolate cheesecake with dark chocolate drizzle
chocolate chip + butterscotch oatmeal cookies

makes about 4 dozen cookies, adapted from hershey's, as seen on K&K Test Kitchen

ingredients

3/4 cup (1 1/2 sticks) unsalted butter, softened
3/4 cup granulated sugar
3/4 cup packed light brown sugar
2 eggs
1 teaspoon vanilla extract
1 1/4 cups all-purpose flour
1 teaspoon baking soda
1/2 teaspoon ground cinnamon
1/2 teaspoon salt
3 cups quick-cooking or regular rolled oats
1 cup butterscotch chips
1 cup chocolate chips

directions

preheat oven to 375°F.

beat butter, granulated sugar + brown sugar in large bowl until well blended. add eggs + vanilla; beat well.

combine flour, baking soda, cinnamon + salt; gradually add to butter mixture, beating until well blended. stir in oats, chocolate chips, + butterscotch chips; mix well. drop by heaping teaspoons onto ungreased cookie sheet.

bake 8-10 minutes or until golden brown. cool slightly; remove from cookie sheet to wire rack. cool completely.

print this recipe