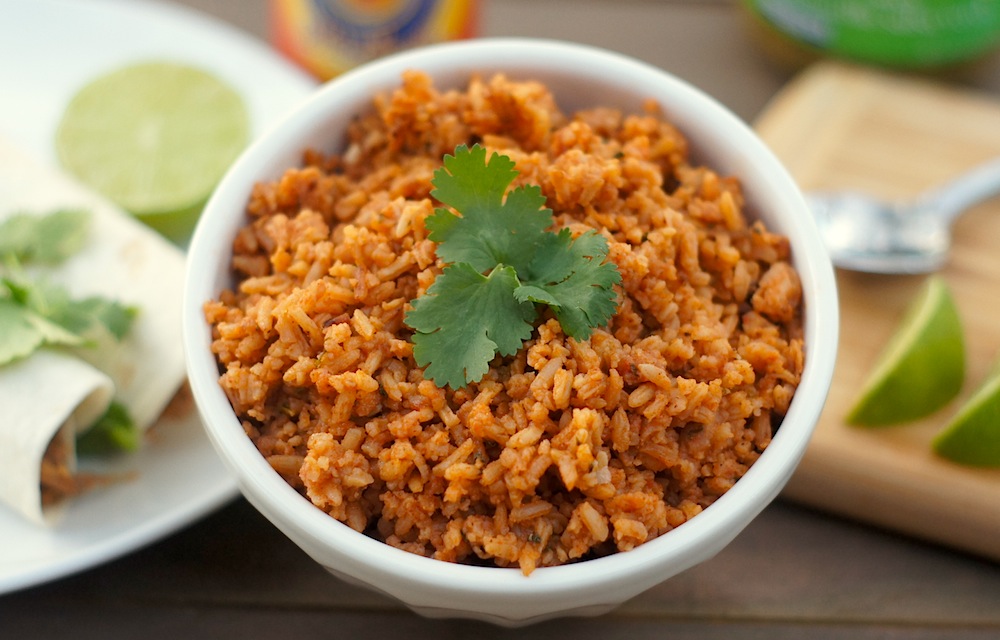 Confession: I really like pre-seasoned rice/couscous mixes. They're probably full of salt + preservatives, but I still love them. Especially Rice-A-Roni, which I could eat by the bucketful. The other night, I planned to make a delicious dinner: Slow-Cooker Barbacoa Beef tacos, homemade mexican-seasoned black beans, and, WAIT, WHERE'S THE RICE-A-RONI?! I foolishly had forgotten to buy some, + the baby was in the middle of her long afternoon nap, so there was no way for me to run to the grocery to get some.
Alright, I thought. I have plenty of ingredients in this house. Surely I can muster up something? I knew I had plain long-grain white rice, plus tons of seasonings available. A quick google search revealed this Restauant-Style Mexican Rice, which looked delicious, + I had all the necessary ingredients. So, I said a prayer to the rice gods, + gave it a try. And y'all, it was SO good. My husband, a huge rice lover, couldn't believe that I had made such a delicious, authentic-tasting mexican rice. AND NOT FROM A BOX MIX! It's a perfect combination of savory, tomato-y, garlicky, bright flavors – all of the seasonings work beautifully together, and the result truly tastes like something you'd get at your favorite mexican restaurant.
Now, am I going to give up my beloved Rice-A-Roni? No way. But I *will* definitely be making this delicious + super-easy-to-make rice again – it's too good not to!
Restaurant-Style Mexican Rice

serves 4, adapted from Favorite Family Recipes

Ingredients

3 Tbsp. vegetable oil
1 cup long grain white rice, uncooked
2 cloves garlic, finely minced
1/2 tsp. kosher salt
1/2 tsp. cumin
1/2 tsp. chili powder
1/4 tsp. paprika
1/2 c. tomato sauce
1 (14 oz) can chicken broth
3 Tbsp. finely chopped fresh cilantro

Instructions

Heat oil in a large saucepan over medium heat. Add the rice + stir occasionally until rice begins to lightly brown.

Add the garlic, salt, cumin, chili powder, + paprika to the rice, + stir until well-combined, about 2 minutes. Add the tomato sauce, chicken broth, + cilantro. Bring the mix to a boil then turn the heat to low, cover + simmer for 20 – 25 minutes, until the rice is cooked through + the the liquid is absorbed. Remove from heat + fluff with a fork.

print this recipe