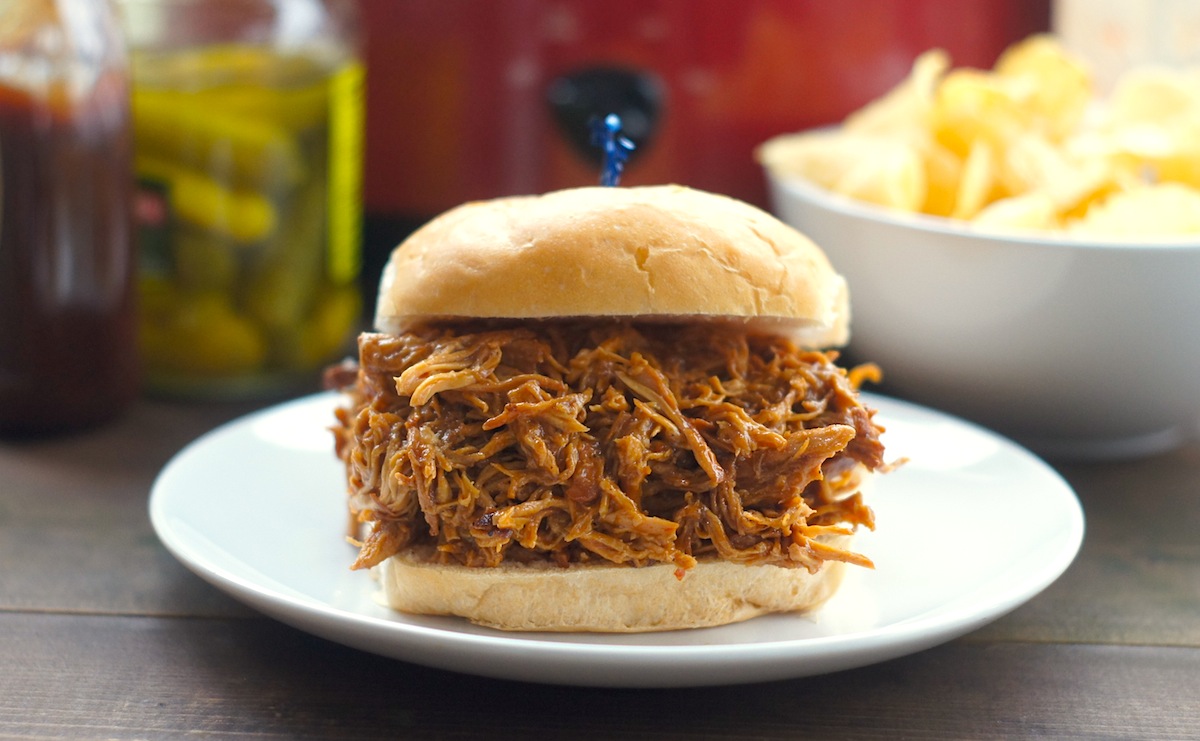 One of my latest gigs is posting family-friendly recipes on the the Vanderbilt Children's Hospital Wishing Well Blog + my latest recipe there was so delicious, I had to share it here, too! When I think of family-friendly dinners, the first thing that comes to mind is my Slow-Cooker. It's wonderfully simple – pop in the ingredients, turn it on, and forget about it for hours. No stirring, no fussing, no special attention needed. Second, the clean-up is a breeze. Third, many slow-cooker recipes make enough food for lots of leftovers, which means quick and delicious lunches for the week!
In the fall and winter, I make at least one slow-cooker meal a week, and I typically alternate between new recipes and time-tested favorites. I made this Slow-Cooker Barbecue Chicken during a "new recipe" week, and it immediately became one of my go-to meals. It is SO amazingly delicious, SO simple to make, and the leftovers are incredibly versatile. And did I mention that it's good for you? Each serving has about 170 calories, and a wonderful 17 grams of protein.
Another bonus? This is absolutely kid-friendly. I used a sweet molasses-based barbecue sauce for this recipe, and the end result was delicious – juicy, fall-apart-tender chicken with just the right amount of sweetness. I like to serve this chicken on sandwiches, but, for kiddos, it would be great served on a plate with a veggie and some mac 'n cheese, or even worked into quesadillas, tacos, or enchiladas. Whatever way you choose to serve it, I know that you and your family will love it!
Slow-Cooker Barbecue Chicken

serves 6-8, adapted from MyRecipes

Ingredients

24 ounces (1.5 pounds) boneless, skinless chicken breasts
3/4 cup barbecue sauce
1/4 cup reduced-fat Italian dressing
1 tablespoon packed brown sugar
1 tablespoon Worcestershire sauce
2 tablespoons cornstarch
2 tablespoons low-sodium chicken broth

Directions

Put chicken in slow-cooker. In a bowl, combine barbecue sauce, dressing, brown sugar and Worcestershire sauce. Pour over chicken. Cover and cook on low for 5 hours.

After 5 hours, remove chicken to a cutting board and shred with 2 forks. In a small bowl, mix cornstarch and chicken broth. Stir into sauce in slow cooker, cover and cook until sauce is thickened and heated through, 5 to 10 minutes. Return shredded chicken to slow-cooker, stir, cover and continue cooking on low for 45 minutes.

Serve chicken on whole-grain buns, with a vegetable and mac 'n cheese, or with baked potatoes, just to name a few ideas.

print this recipe