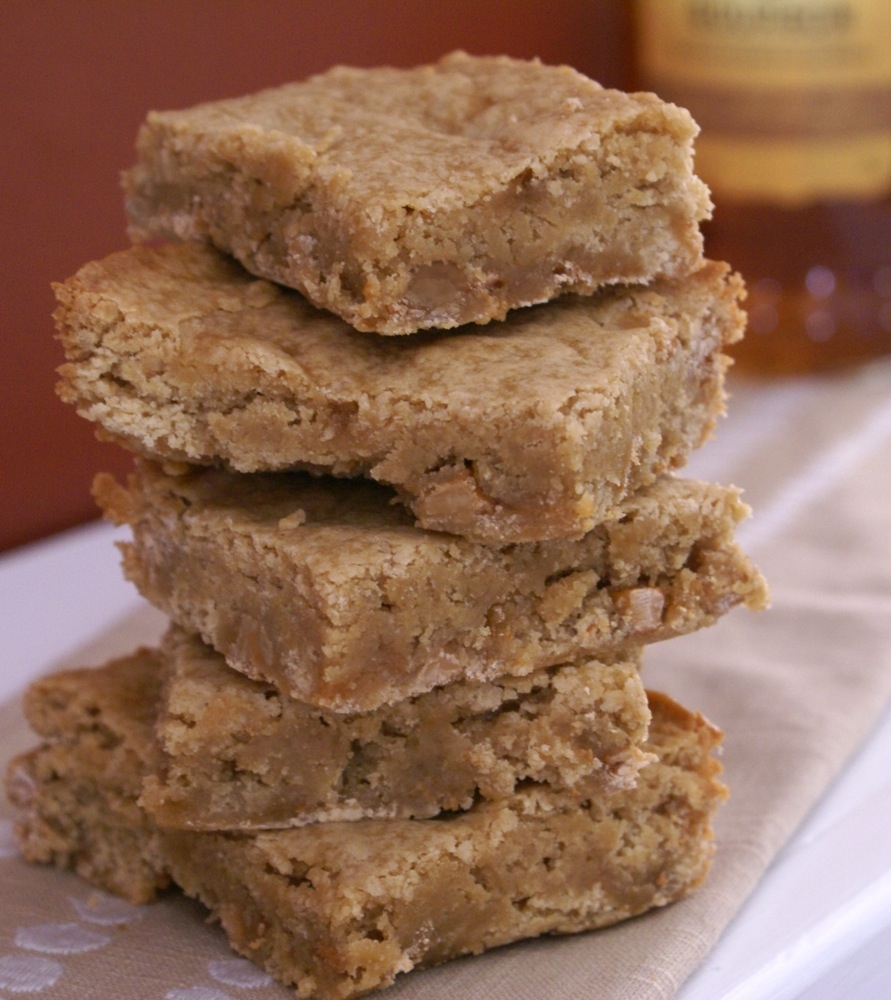 last thursday, we got more snow in nashville, which meant that most of us were home + off the roads by mid-afternoon. what to do with an expected few free hours? cook! on my to-make list, i put tortellini soup with cannellini, kielbasa + kale, a vodka + elderflower-tini, + these butterscotch bourbon bars.
i found this recipe on erin's food files, a blog run by a great cook + fabulous fellow nashvillian. when the snow hit, i knew it was the perfect time to try this out. coincidentally, my honey (who loves bourbon) was scheduled to return home that night from a business trip. i feared that his flight would be canceled due to weather, but wanted to have a batch of these butterscotch bourbon bars ready just in case he made it.
these bars are amazing – slightly rich with a kick from the butterscotch + bourbon. their texture is moist, smooth, a little crunchy here + there from the chips, which i love! i wouldn't have thought that butterscotch + bourbon would mesh so well, but guess what? they do! + honey? he made it home safely that night to little ol' me, our snuggly pup, + these fab sweets. thanks again, erin, for the idea!
butterscotch bourbon bars

makes 9-12 bars, adapted from frites & fries, as seen on erin's food files

ingredients

1 cup unbleached all-purpose flour
1 tsp. baking powder
1/2 tsp. salt
1 cup light brown sugar
1 egg
1/4 cup unsalted butter, melted
2 tbsp. milk
1 tsp. vanilla extract
1/2 cup butterscotch chips
2 tbsp. bourbon (i used four roses bourbon)

directions

preheat the oven to 350 degrees. mix the flour, baking powder, salt, + light brown sugar together. in another bowl, whisk the butter, milk, vanilla, + egg. pour the liquid mixture into the dry batter. add the bourbon + fold in the butterscotch chips.

pour the batter into a greased 9" pan. use a spatula to cover the entire pan with the cookie batter. bake for about 20 minutes; use a toothpick to test the center. the toothpick should not be completely clean but with very small bits of cookie dough on it.

print this recipe