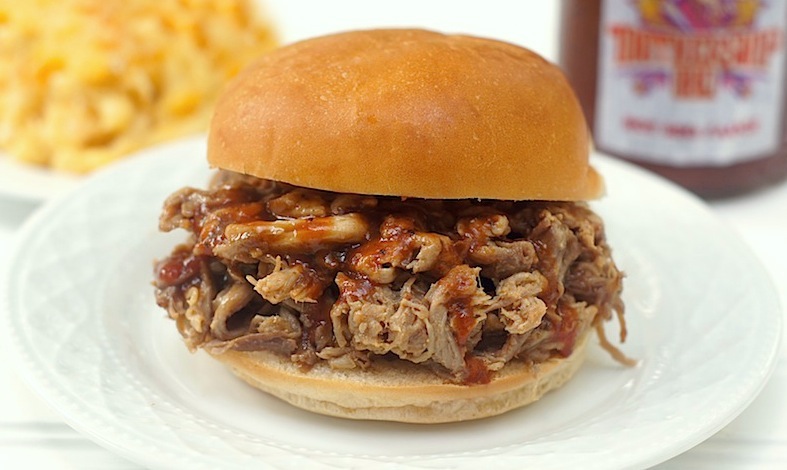 i know you're thinking, another slow cooker recipe?! I confess, I'm addicted to my new crock-pot. I promise I won't post a crock-pot recipe each week … unless you want me to, + then count me in!
with both NFL + college football back in swing, it's a wonderful time to share a sports-watchin' meal with you. this absolutely delicious pulled pork is perfect for that. first, it requires very little hands-on time – most of the time is spent happily slow-cooking. second, you can pop it in the slow cooker the night before + the next morning, it's ready to be grazed on all day, or transported to a tailgate or friend's house. third? it feeds a crowd – at least 10 people depending on your appetites.
if you're not feeding a crowd, it makes for fantastic leftovers. we ate it for dinners, a breakfast (judge away!), lunches + still had leftovers to freeze. i love pulled pork served southern-style, drizzled with bbq sauce, served with homemade mac + cheese + collard greens. it would also be great with baked beans, cole slaw, or even just chips if you're feeling casual. throw in on a bun, eat it on a plate, or even put it in a taco – this stuff is amazing AND versatile + you'll be thrilled you made it!
slow-cooker pulled pork

serves about 10-12, adapted from tyler florence + the country cook

ingredients

for the spice rub:
3 tablespoons paprika
1 tablespoon garlic powder
1 tablespoon brown sugar
1 tablespoon dry mustard
1/2 teaspoon red pepper flakes
1/2 teaspoon black pepper
3 tablespoons coarse sea salt

1 (5 to 7 pound) bone-in pork roast, preferably shoulder or Boston butt
1 can (12 ounces) of coca cola, dr. pepper, or root beer (i used dr. pepper)
1 tablespoon hickory liquid smoke

optional: 1 bottle (about 16 ounces) of your favorite bbq sauce (read last paragraph of recipe for instructions)

directions

first, create the spice rub by combining the first 7 ingredients. rub the spice blend all over the pork. cover + refrigerate for at least 1 hour, or up to overnight.

place the spice-rubeed pork in your slow cooker. pour in the 12 ounces of soda + liquid smoke. cover + cook on LOW for 8 to 10 hours, until the pork is very tender.

remove the pork from the slow cooker + reserve 1/4 cup of the cooking liquid. while the pork is still warm, you want to "pull" the meat: grab 2 forks. using 1 to steady the meat, use the other to "pull" shreds of meat off the roast. put the shredded pork in a bowl (or back in the crock-pot) + pour the 1/2 cup reserved cooking liquid over it. stir it all up well.

NOTE: i prefer my pulled pork served with just a small side of bbq sauce, not smothered in it, so i just popped it on a plate + topped with a drizzle of bbq at this point. If you like yours smothered in bbq sauce, you can RETURN the shredded pork to the crock-pot at this point, add in one bottle of your favorite bbq sauce + continue to cook covered on LOW for 20-30 minutes, until pork is fully hot again.

print this recipe