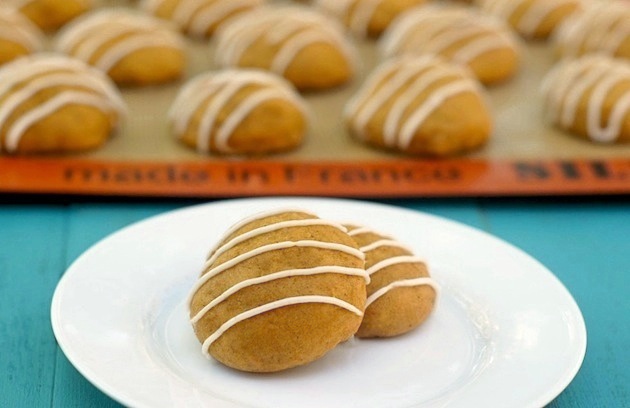 first, some fun news: today marks exactly 2 years from when i first started this little ol' blog. thank you all SO much for your support, friendship, comments + connections – it's been an amazing 2 years blogging as the Fearless Homemaker – here's to many more! now, on to the recipe du jour. =)
earlier this week, i had pumpkin puree left over from making pumpkin spice pancakes + didn't want it to go to waste, so i decided to try making something i've never made before: pumpkin cookies! after reading through a bunch of recipes, i opted for a fairly simple version: spiced pumpkin cookies topped with a drizzle of cream cheese icing.
so, how did they turn out? wonderful! these cookies have a delightful cake-like texture: they're fluffy, soft, + moist. they have beautiful spiced notes, thanks to the blend of cinnamon, nutmeg + cloves, which work wonderfully with the pumpkin flavor. the cookies themselves aren't overly sweet, which is balanced by the more intense sweetness from the scrumptious cream cheese icing. all in all, these are a lovely fall dessert or snack. since they're fairly light, i've been loving them as an afternoon pick-me-up with a cup of hot tea. any afternoon that involves cookies is always a good one in my book!
pumpkin spice cookies with cream cheese icing

makes about 3 dozen cookies, adapted from gimme some oven

ingredients

for the cookies:
2 1/2 cups all-purpose flour
1 teaspoon baking powder
1 teaspoon baking soda
2 teaspoons ground cinnamon
1/2 teaspoon ground nutmeg
1/2 teaspoon ground cloves
1/2 teaspoon salt
1 stick (1/2 cup) unsalted butter, softened
1 cup white sugar
1/2 cup brown sugar
1 1/4 cup canned pumpkin puree
1 egg
1 teaspoon vanilla extract

for the icing:
4 oz. cream cheese
3/4 cup powdered sugar

directions

preheat oven to 350 degrees F. combine flour, baking powder, baking soda, cinnamon, nutmeg, ground cloves, + salt; set aside.

in a medium bowl, using a hand mixer or a stand mixer with the paddle attachment, cream together the butter, white sugar + brown sugar until light + fluffy. add pumpkin, egg, + vanilla, + beat until creamy. add in the flour mixture in two additions, mixing until completely combined.

drop on a parchment-or-silpat-lined cookie sheet by heaping tablespoonfuls; flatten slightly.

bake for 15-20 minutes in the preheated oven, until lightly golden. cool cookies completely, then frost or drizzle with cream cheese icing.

to make icing: with an electric mixer, combine confectioners' sugar + cream cheese until smooth + creamy. feel free to add in an extra teaspoon of cinnamon or pumpkin pie spice for flavor! you can either frost cookies with a knife, or drizzle with the help of a pastry bag + tip. (if you do not have a pastry bag, just fill a ziploc bag with the frosting, squeeze out the extra air, seal, + use scissors to snip a tiny hole in one corner.)

print this recipe