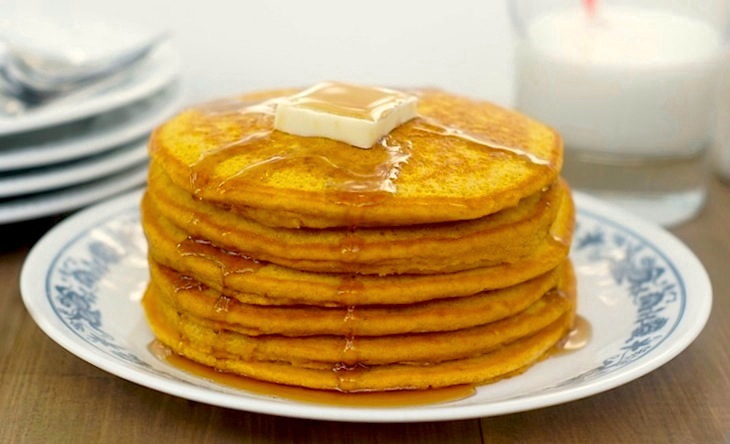 today, i'm participating in a fun blogger event — the secret recipe club. how does it work? every blogger is secretly assigned another blog + chooses a recipe from that blog to make. on reveal day (today!), all of our posts go up at the same time, + everyone gets to see who was assigned to their blog, which recipe they chose, + how it turned out. fun, huh?
this month, i was assigned a healthy jalapeño, a wonderful blog full of amazing recipes, many of which are lightened-up, healthier versions of traditional comfort food recipes. i was struggling to decide which recipe to make (there are so many good ones to choose from!) until i stumbled across her pumpkin spice pancakes. not only did they look  + sound scrumptious, but with the first official day of fall this past weekend, it was the perfect time to make a quintessentially autumn recipe.
so, how did they turn out? SO amazingly delicious. they're wonderfully light + fluffy, + beautifully showcase the rich, pumpkiny, spiced flavors that i associate with fall. i had them for breakfast on friday + they were so tasty that i just had to make them again the next morning so my husband could try them, too. there's no rule against eating pancakes two days in a row, is there? =) topped with a generous pat of butter + a liberal pour of maple syrup, these make for a delightful fall breakfast.
thank you to laura for introducing me to these fabulous pancakes, + to the secret recipe club for connecting me with fantastic bloggers + amazing recipes!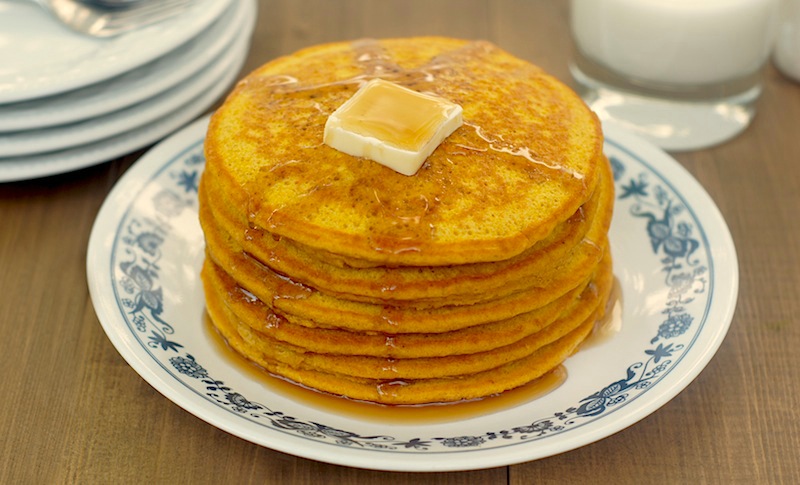 my previous secret recipe club posts:
chocolate chip + butterscotch oatmeal cookies
lemon orzo with sautéed zucchini + tomatoes
creamy fettuccine with corn + arugula
lime + raspberry squares with pistachio-graham crust
garlic, cheddar + parmesan rolls
peppermint patty-filled brownie cupcakes
sugar cookie bars
chocolate cheesecake with dark chocolate drizzle
Pumpkin Spice Pancakes

Makes 12 pancakes, adapted from Epicurious, as seen on A Healthy Jalapeño

Ingredients

1 1/4 cups unbleached all-purpose flour
3 tablespoons sugar
2 teaspoons baking powder
1 1/4 teaspoons pumpkin pie spice
3/4 teaspoon salt
1 1/3 cups whole milk
3/4 cup canned pure pumpkin
4 large eggs, separated into whites and yolks
1/4 cup (1/2 stick) unsalted butter, melted
1 teaspoon vanilla extract

canola oil spray for cooking
butter + maple syrup for serving

Directions

Whisk the first 5 ingredients (all dry ingredients) in a large bowl to blend. Whisk milk, pumpkin, egg yolks, melted butter + vanilla (all wet ingredients) in a separate medium bowl to blend well. Add liquid pumpkin mixture to dry ingredients; whisk just until smooth (batter will be thick).

Using an electric mixer, beat egg whites in another medium bowl until stiff but not dry. Fold whites into batter in 2 additions.

Spray a large nonstick skillet with canola oil; heat over medium heat.  Working in batches, pour batter by 1/3 cupfuls into skillet. Cook until bubbles form on surface of pancakes + bottoms are brown, about 1 1/2 minutes per side. Repeat with remaining batter, spraying skillet with  oil between batches. Serve hot with butter + syrup. print this recipe