I've spoken many times about my love for the combination of mint + chocolate. As a child, mint chocolate chip ice cream was my favorite, and as an adult, I still loooove that flavor combination. There are no shortage of chocolate-mint recipes on here (like these Andes Mint Chip Cookies, No-Bake Chocolate Mint Bars, Peppermint Patty-Stuffed Brownies, + even a Mint Chocolate Chip Cocktail) but that didn't stop me from wanting to make another new recipe to share with y'all! With Christmas just around the corner, I thought I'd give a chocolate-candy cane recipe a try, and I'm so thrilled I did – these Peppermint Candy Cane Brownies turned out amazing!
Fudgy brownies, topped with sweet peppermint buttercream, rich chocolate ganache, + crushed candy canes for a festive flair. If you want to make homemade brownies, that's fantastic (my go-to recipe is used here + listed below), but if you have a boxed brownie mix you love, feel free to substitute that to save some time + ingredients. Also, I maaaay have gone slightly overboard with the peppermint buttercream layer. I LOVE frosting, so I doubled the original buttercream amount, to get a decadent, thick layer. I absolutely love the way they turned out, but if you want a more modest buttercream layer, simply halve the ingredients listed below. =)
These were a huge hit in our household (as you may have guessed from the sneaky Fearless Baby hand pictured below. =) They are definitely going to be a regular on our holiday dessert table!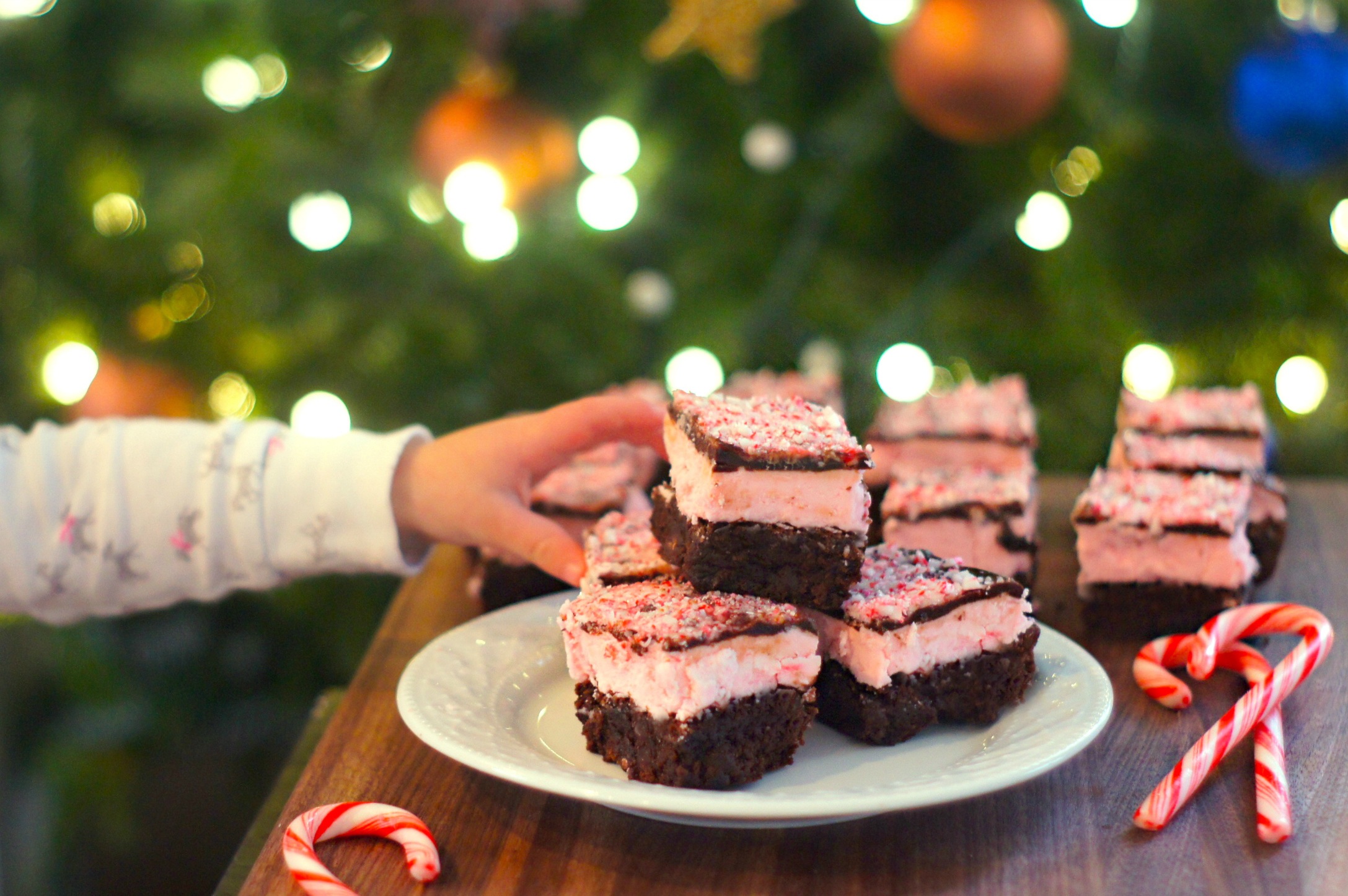 Peppermint Candy Cane Brownies

Makes 16 brownies, adapted from Barbara Bakes and Cookie & Kate

Ingredients

For the brownies: (or you can shortcut it and use a boxed mix for the brownies!)
10 tablespoons unsalted butter, cut into ½-inch slices
1 1/4 cups granulated sugar
3/4 cup unsweetened cocoa powder
1/2 teaspoon sea salt
1/4 teaspoon baking powder
2 cold large eggs
1 1/2 teaspoons vanilla extract
2/3 cup all-purpose flour
2 ounces dark or semi-sweet chocolate, roughly chopped (or 1/3 cup chocolate chips)

For the peppermint frosting:
3 cups powdered sugar
8 tablespoons butter, softened
1 1/2 teaspoons peppermint extract
2 tablespoons milk
red food coloring, 2 drops

For the chocolate glaze:
3/4 cup chocolate chips
6 tablespoons unsalted butter

For the candy cane garnish:
4 candy canes, crushed

Directions

Make the brownies: (Note: If you using a boxed brownie mix instead, hop down to the ** + proceed from there.) Preheat the oven to 325 degrees Fahrenheit with a rack in the lower third of the oven. Line an 9-inch square baking pan with two criss-crossed pieces of parchment paper or foil, leaving a 1″ overhang (for easy removal of the brownies). Grease the parchment paper/foil.

Brown the butter: Melt the butter in a medium-sized saucepan over medium heat. Continue to cook the butter, whisking constantly, until it's pale golden brown and the particles suspended in it are reddish brown, about 10 minutes. Remove the pan from heat and stir in the sugar. Then add the cocoa powder, sea salt, and baking powder. Stir until the ingredients are thoroughly incorporated. Let the mixture cool for 5 minutes.

Add the eggs one at a time, beating vigorously with a wooden spoon or silicone spatula after each one. When the mixture looks thick, shiny and well blended, add the vanilla extract and the flour. Stir until you no longer see streaks of flour. Then beat vigorously (put those arm muscles to work!) for 50 strokes with the wooden spoon or spatula. At this point, the mixture should be no more than slightly warm (if not, let it cool for a few more minutes). Fold in the chocolate chunks or chips.

Spread the batter in the lined pan, then use a knife to make light swirls in the top of the batter. Bake on the lower rack for about 25 minutes, until a toothpick inserted in the center comes out almost clean. **Cool the brownies in the pan on a baking rack. Let the brownies cool COMPLETELY before proceeding to the next step.

Make the peppermint frosting: Combine all five frosting ingredients listed above, and beat until light and fluffy. Add more milk a teaspoon at a time, as needed to get the frosting to the ideal thickness. Spread evenly over cooled brownies and place in the refrigerator to chill while you prepare the final step.

Make the chocolate glaze: Place chocolate chips and butter in a microwave-safe bowl. Microwave in 30 second intervals, stirring in between, until just melted and smooth. Set aside to cool for about 15 minutes, stirring occasionally, and then quickly spread on top of brownies. Sprinkle the crushed candy canes on top of the glaze, and return to the fridge to fully cool. When chocolate has hardened, use the edges of the parchment/foil to remove the entire sheet of brownies from the pan. Cut into 16 squares (or 25 squares , if you want bite-size) and serve.

print this recipe