today, i'm participating in a fun blogger event — the secret recipe club. how does it work? every blogger is secretly assigned another blog + chooses a recipe from that blog to make. on reveal day (today!), all of our posts go up at the same time, + everyone gets to see who was assigned to their blog, which recipe they chose, + how it turned out. fun, huh?
this month, i was assigned so tasty, so yummy, a fantastic blog full of wonderful dinners, fab desserts, + scrumptious sides. after looking through lots of recipes, i narrowed it down to trying sriracha chicken tenders, a caramelized onion, spinach + goat cheese pizza, or these cinnamon roll muffins. while my savory side normally beats out my sweet tooth, on this particular day i was jonesing for a sweet, so the cinnamon roll muffins won! i gathered up the ingredients, + got bakin'.
so, how did they turn out? delicious! ooey, gooey, sweet, buttery, + rich, just like cinnamon rolls should be. cinnamon rolls are one of my favorite decadent breakfast treats, but the normal yeasted version takes planning + time, often requiring an overnight rise. this muffin version, though, requires no yeast + thus, no rising time. from start to finish, including baking, these were done in about 30 minutes. amazing AND quick to make = how awesome is that?!
thank you to katie for introducing me to these fabulous pancakes, + to the secret recipe club for connecting me, yet again, with fantastic bloggers + amazing recipes!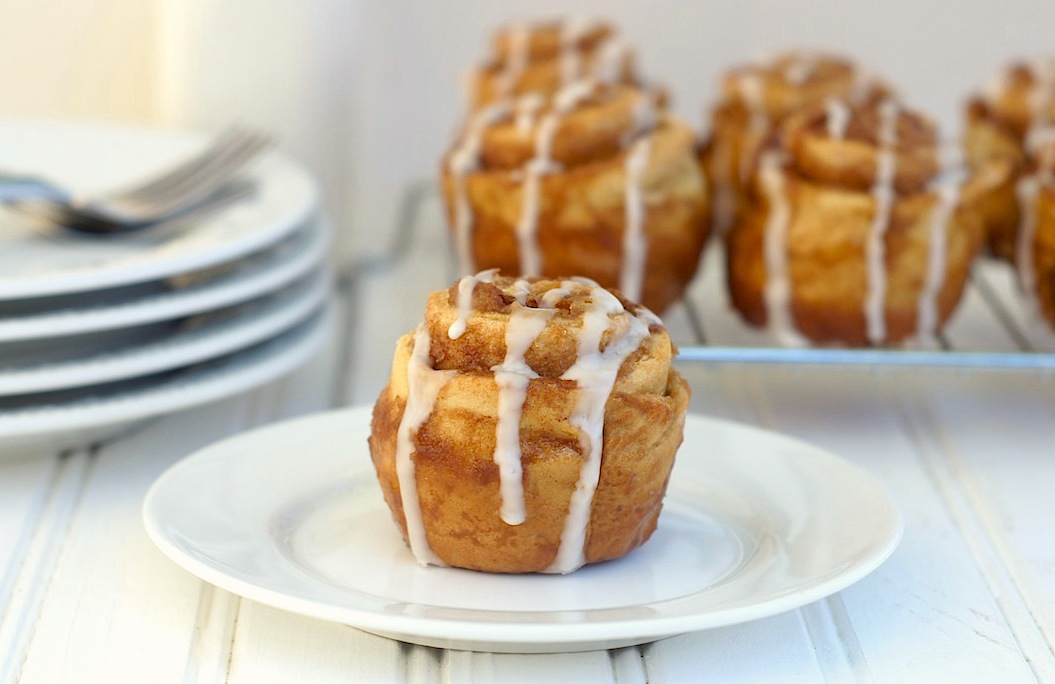 my previous secret recipe club posts:
pumpkin spice pancakes
chocolate chip + butterscotch oatmeal cookies
lemon orzo with sautéed zucchini + tomatoes
creamy fettuccine with corn + arugula
lime + raspberry squares with pistachio-graham crust
garlic, cheddar + parmesan rolls
peppermint patty-filled brownie cupcakes
sugar cookie bars
chocolate cheesecake with dark chocolate drizzle
cinnamon roll muffins

makes 12 muffins, adapted from so tasty, so yummy

ingredients

for the dough:
1/2 cup brown sugar, lightly packed
1 teaspoon baking soda
1/2 teaspoon salt
1/2 teaspoon vanilla extract
1 egg
1 cup buttermilk
3 cups flour

for the filling:
3 tablespoons unsalted butter, melted
1 cup brown sugar
1 1/4 teaspoon cinnamon

for the icing:
1 cup powdered sugar
1-2 tablespoons milk or cream
1/4 teaspoon vanilla (optional)

directions

measure the brown sugar, baking soda, salt, vanilla, + egg into a mixing bowl. add the buttermilk, then the flour; stir until thoroughly combined into a dough. turn the dough out onto a lightly floured surface + knead for 2 minutes.

roll the dough into a 12×24 inch rectangle + spread with the melted butter. sprinkle with the brown sugar + cinnamon. roll the dough into a log beginning with the wide side. stretch slightly.

cut into two-inch pieces + put these pieces into a greased muffin tins or cupcake liners. bake at 375 for 20 minutes or until golden brown.

allow to cool for 5 minutes in the muffin tin, then transfer to a wire rack.

make the icing: combine the powdered sugar, milk or cream, + vanilla (optional) in a small ball until it forms a icing consistency. if it seems too thin/watery, add more powdered sugar. if it seems too thick, add a bit more milk/cream.

drizzle the icing over the tops of the muffins decoratively.

print this recipe